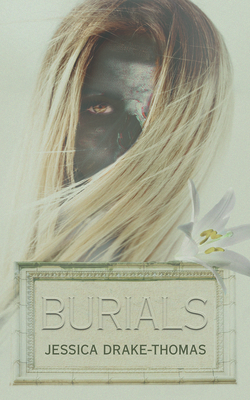 Burials
Paperback

* Individual store prices may vary.
Description
What is buried can return. Those who are dead can still speak. A witch can be burned, but not silenced. When the abattoir is opened, the dead will rise. Burials is the narrative of those whose voices have been taken away-murdered women, witches, ghosts. It's about speaking one's truth, and using magic to heal or to banish, even from beyond the grave.
"Jessica Drake-Thomas has a wealth of knowledge of things you've only tasted in shadows. In this collection of gothic poetry, she opens her palms to let some of these dark whispers free into the night -the freedom of a shared language etching itself into the history of the world, to become legend. As things do when they die and are buried. If you've ever heard the begging of the blood moon, pulling you from slumber to tiptoe through the darkness...if you've ever gnashed your teeth at a lover's neck...you will find wisps of your own darkness among these pages. With dark, romantic language, vengeful love spells, and the ghosts of old Salem wandering lost among the brittle paper, Burials is a haunting your soul won't soon forget."
- Mela Blust, author of Skeleton Parade
"Burials is at times fierce and at others keening, but most often it is both at once. Jessica Drake-Thomas writes macabre love poems with the dazzlingly morbid whimsy of a young Morticia Addams driving her "hearse in seafoam green," seeking her Gomez in this sad, lonely world. "I have learned that / love is cheap here, / and something is important / about the idea of // a nice girl," she tells us. But for the witch-hearted girl, Drake-Thomas gives us love spells that offer a kind of healing for the haunted, for the many ways love so often fails us."
- Lindsay Lusby, author of Catechesis, A Postpastoral
"This collection is a mass grave teeming with lovers as executioners, and the bodies left like corpses in their wake."
- Kristin Garth, author of Flutter: Southern Gothic Fever Dream and Candy Cigarette: Womanchild Noir
Clash Books, 9781944866723, 90pp.
Publication Date: October 6, 2020