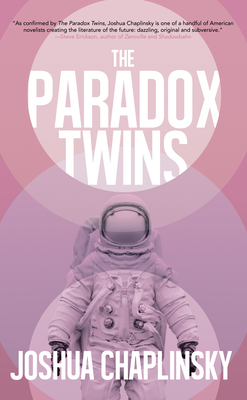 The Paradox Twins
Paperback

* Individual store prices may vary.
Description
The Paradox Twins is a copyright infringing biographical collage that exists on the Internet, pieced together by an unknown auteur.
Named for the famous thought experiment, it concerns estranged twin brothers who reunite at their father's funeral to discover they no longer look alike. Haunted by the past (and possibly the future), they move into their father's house to settle his affairs, only to reignite old rivalries and uncover long-hidden secrets, most of which involve the young woman who lives next door.
An epistolary work comprised of excerpts from various memoirs, novels, screenplay adaptations, and documents of public record, The Paradox Twins is an experimental, sci-fi ghost story about the scariest, most unknowable quantity there is-family.
PRAISE FOR THE PARADOX TWINS
"Chaplinsky takes a famous physics paradox and brings it back down to earth, using it to rethink the ways in which families relate and interrelate and disintegrate. A collage that assembles itself into a sneaky whole in which it's not always easy to tell what the truth is."
-Brian Evenson, author of Song For the Unraveling of the World
"As confirmed by The Paradox Twins, Joshua Chaplinsky is one of a handful of American novelists creating the literature of the future: dazzling, original and subversive."
-Steve Erickson, author of Zeroville and Shadowbahn
"Like a coy, uncanny hybrid of J.G. Ballard and John Carpenter, the Oulipo and the Bizarro, The Paradox Twins is an engrossing and digressive trip through birth and back, stuffed from end to end with mystic weirdness and meta-gags with style to spare."
-Blake Butler, author of Alice Knott and 300,000,000
Clash Books, 9781944866815, 276pp.
Publication Date: April 6, 2021