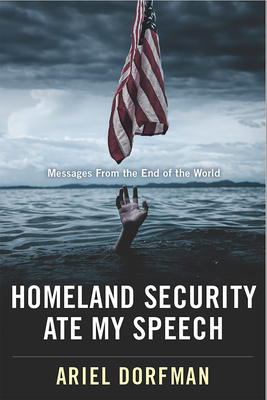 Homeland Security Ate My Speech (Hardcover)
Messages from the End of the World
Or Books in Partnership with Counterpoint Pre, 9781944869632, 224pp.
Publication Date: December 12, 2017
* Individual store prices may vary.
Description
"A worthy addition to the library of resistance." --Kirkus "Dorfman's critique is personal, intellectual, devastating, and at times bitingly funny." --New York Journal of Books Combining elements of memoir, political theory, and literary criticism, Ariel Dorfman's Homeland Security Ate My Speech is an emotionally raw yet measured assessment of the United States after the election of Donald Trump. Dorfman, writing with a bifurcated Latino-American identity, highlights the troubling parallels between Trump and repressive regimes of the past. Specifically, Dorfman relates the election of Trump to the CIA-led coup that installed Pinochet as dictator in Chile: an event that upended Dorfman's life, as well as the fate of the country. With corruption and repression looming, he wonders, can the United States avoid the same kind of political interference it practiced in the past? Reflecting Dorfman's virtuosity across genres, the essays of Homeland Security Ate My Speech are concise, yet highly original and playful; one takes the form of a letter from a sixteenth-century King of Spain to Donald Trump, praising him for his intolerance, and urging a revival of the Inquisition, while another begins with Dorfman's memory of seeing a monster movie as a child ("I can remember gripping my mother's hand tight") and segues into a thoughtful meditation on Trump via Mary Shelley's novel Frankenstein. Dorfman brings a rich array of literary references to his discussion of America's current malaise; other authors he invokes include Faulkner, Shakespeare, Cervantes, Melville, Lewis Carroll, and Dave Eggers.
About the Author
Born in Argentina in 1942, ARIEL DORFMAN spent ten years as a child in New York, until his family was forced out of the United States by the persecution of McCarthy. The Dorfmans ended up in Chile, where Ariel spent his adolescence and youth, living through the Allende revolution and the subsequent resistance inside Chile, and abroad after the dictatorship that overthrew Allende in 1973. Accompanied by the love of his life, Angélica, to whom he has been married for over fifty years, he wandered the globe as an exile, finally settling down in the United States, where he is now Walter Hines Emeritus Professor of Literature at Duke University, though he keeps a house in Chile where he and Angelica travel frequently. They are blessed with a large family and many dear friends. Dorfman's acclaimed work (which includes the play and film Death and the Maiden and the classic text about cultural imperialism, How to Read Donald Duck) covers almost every genre available (plays, novels, short stories, fiction, essays, journalism, opinion pieces, memoirs, screenplays). In all them, he has won major awards, leading to accolades from Time ("a literary grandmaster"), Newsweek ("one of the greatest novelists coming out of Latin America"), the Washington Post ("a world novelist of the first order") and the New York Times ("he has written movingly and often brilliantly of the cultural dislocations and political fractures of his dual heritage").