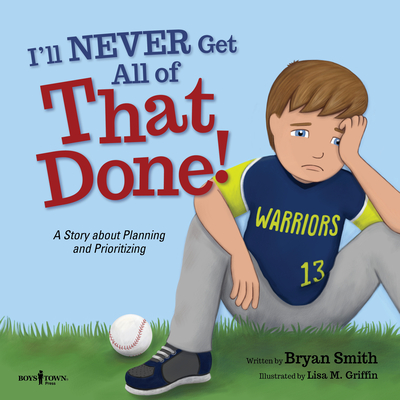 I'll Never Get All of That Done! (Paperback)
A Story about Planning and Prioritizing (Executive Function #8)
Boys Town Press, 9781944882501, 32pp.
Publication Date: February 11, 2020
* Individual store prices may vary.
Description
Blake has a to-do list that's just too long. How can his parents and teachers expect him to finish his homework, clean his room AND bake cookies for the baseball bake sale? Don't they know there's something urgent he has to do now ƒƒ'ƒƒ''ƒƒƒ''ƒ''ƒƒƒ'ƒƒ'''ƒƒ''ƒ''ƒƒƒ'ƒƒ''ƒƒƒ''ƒ'''ƒƒ'ƒƒ'''ƒƒ''ƒ''ƒƒƒ'ƒƒ''ƒƒƒ''ƒ''ƒƒƒ'ƒƒ'''ƒƒ''ƒ'''ƒƒ'ƒƒ''ƒƒƒ''ƒ'''ƒƒ'ƒƒ'''ƒƒ''ƒ'''ƒƒ'ƒƒ''ƒƒƒ''ƒ''ƒƒƒ'ƒƒ'''ƒƒ''ƒ''ƒƒƒ'ƒƒ''ƒƒƒ''ƒ'''ƒƒ'ƒƒ'''ƒƒ''ƒ'''ƒƒ'ƒƒ''ƒƒƒ''ƒ''ƒƒƒ'ƒƒ'''ƒƒ''ƒ'''ƒƒ'ƒƒ''ƒƒƒ''ƒ'''ƒƒ'ƒƒ'''ƒƒ''ƒ''"ƒƒ'ƒƒ''ƒƒƒ''ƒ''ƒƒƒ'ƒƒ'''ƒƒ''ƒ''ƒƒƒ'ƒƒ''ƒƒƒ''ƒ'''ƒƒ'ƒƒ'''ƒƒ''ƒ''ƒƒƒ'ƒƒ''ƒƒƒ''ƒ''ƒƒƒ'ƒƒ'''ƒƒ''ƒ'''ƒƒ'ƒƒ''ƒƒƒ''ƒ'''ƒƒ'ƒƒ'''ƒƒ''ƒ'''ƒƒ'ƒƒ''ƒƒƒ''ƒ''ƒƒƒ'ƒƒ'''ƒƒ''ƒ''ƒƒƒ'ƒƒ''ƒƒƒ''ƒ'''ƒƒ'ƒƒ'''ƒƒ''ƒ'''ƒƒ'ƒƒ''ƒƒƒ''ƒ''ƒƒƒ'ƒƒ'''ƒƒ''ƒ'''ƒƒ'ƒƒ''ƒƒƒ''ƒ'''ƒƒ'ƒƒ'''ƒƒ''ƒ''€ƒƒ'ƒƒ''ƒƒƒ''ƒ''ƒƒƒ'ƒƒ'''ƒƒ''ƒ''ƒƒƒ'ƒƒ''ƒƒƒ''ƒ'''ƒƒ'ƒƒ'''ƒƒ''ƒ''ƒƒƒ'ƒƒ''ƒƒƒ''ƒ''ƒƒƒ'ƒƒ'''ƒƒ''ƒ'''ƒƒ'ƒƒ''ƒƒƒ''ƒ'''ƒƒ'ƒƒ'''ƒƒ''ƒ'''ƒƒ'ƒƒ''ƒƒƒ''ƒ''ƒƒƒ'ƒƒ'''ƒƒ''ƒ''ƒƒƒ'ƒƒ''ƒƒƒ''ƒ'''ƒƒ'ƒƒ'''ƒƒ''ƒ'''ƒƒ'ƒƒ''ƒƒƒ''ƒ''ƒƒƒ'ƒƒ'''ƒƒ''ƒ'''ƒƒ'ƒƒ''ƒƒƒ''ƒ'''ƒƒ'ƒƒ'''ƒƒ''ƒ''" like play video games?
When Mom encourages Blake to follow the 3 Ps ƒƒ'ƒƒ''ƒƒƒ''ƒ''ƒƒƒ'ƒƒ'''ƒƒ''ƒ''ƒƒƒ'ƒƒ''ƒƒƒ''ƒ'''ƒƒ'ƒƒ'''ƒƒ''ƒ''ƒƒƒ'ƒƒ''ƒƒƒ''ƒ''ƒƒƒ'ƒƒ'''ƒƒ''ƒ'''ƒƒ'ƒƒ''ƒƒƒ''ƒ'''ƒƒ'ƒƒ'''ƒƒ''ƒ'''ƒƒ'ƒƒ''ƒƒƒ''ƒ''ƒƒƒ'ƒƒ'''ƒƒ''ƒ''ƒƒƒ'ƒƒ''ƒƒƒ''ƒ'''ƒƒ'ƒƒ'''ƒƒ''ƒ'''ƒƒ'ƒƒ''ƒƒƒ''ƒ''ƒƒƒ'ƒƒ'''ƒƒ''ƒ'''ƒƒ'ƒƒ''ƒƒƒ''ƒ'''ƒƒ'ƒƒ'''ƒƒ''ƒ''"ƒƒ'ƒƒ''ƒƒƒ''ƒ''ƒƒƒ'ƒƒ'''ƒƒ''ƒ''ƒƒƒ'ƒƒ''ƒƒƒ''ƒ'''ƒƒ'ƒƒ'''ƒƒ''ƒ''ƒƒƒ'ƒƒ''ƒƒƒ''ƒ''ƒƒƒ'ƒƒ'''ƒƒ''ƒ'''ƒƒ'ƒƒ''ƒƒƒ''ƒ'''ƒƒ'ƒƒ'''ƒƒ''ƒ'''ƒƒ'ƒƒ''ƒƒƒ''ƒ''ƒƒƒ'ƒƒ'''ƒƒ''ƒ''ƒƒƒ'ƒƒ''ƒƒƒ''ƒ'''ƒƒ'ƒƒ'''ƒƒ''ƒ'''ƒƒ'ƒƒ''ƒƒƒ''ƒ''ƒƒƒ'ƒƒ'''ƒƒ''ƒ'''ƒƒ'ƒƒ''ƒƒƒ''ƒ'''ƒƒ'ƒƒ'''ƒƒ''ƒ''€ƒƒ'ƒƒ''ƒƒƒ''ƒ''ƒƒƒ'ƒƒ'''ƒƒ''ƒ''ƒƒƒ'ƒƒ''ƒƒƒ''ƒ'''ƒƒ'ƒƒ'''ƒƒ''ƒ''ƒƒƒ'ƒƒ''ƒƒƒ''ƒ''ƒƒƒ'ƒƒ'''ƒƒ''ƒ'''ƒƒ'ƒƒ''ƒƒƒ''ƒ'''ƒƒ'ƒƒ'''ƒƒ''ƒ'''ƒƒ'ƒƒ''ƒƒƒ''ƒ''ƒƒƒ'ƒƒ'''ƒƒ''ƒ''ƒƒƒ'ƒƒ''ƒƒƒ''ƒ'''ƒƒ'ƒƒ'''ƒƒ''ƒ'''ƒƒ'ƒƒ''ƒƒƒ''ƒ''ƒƒƒ'ƒƒ'''ƒƒ''ƒ'''ƒƒ'ƒƒ''ƒƒƒ''ƒ'''ƒƒ'ƒƒ'''ƒƒ''ƒ''" prioritizing, planning and posting a reminder of what needs to be done ƒƒ'ƒƒ''ƒƒƒ''ƒ''ƒƒƒ'ƒƒ'''ƒƒ''ƒ''ƒƒƒ'ƒƒ''ƒƒƒ''ƒ'''ƒƒ'ƒƒ'''ƒƒ''ƒ''ƒƒƒ'ƒƒ''