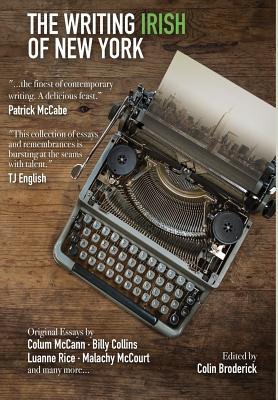 The Writing Irish of New York (Hardcover)
Lavender Ink, 9781944884536, 274pp.
Publication Date: October 11, 2018
Other Editions of This Title:
Paperback (10/11/2018)
* Individual store prices may vary.
Description
In the ten years following the Great Famine, Irish flooded into New York at an astonishing rate. By 1860 one in every four New Yorkers was Irish, and by the 1920s Irish-American authors like Eugene O'Neill and F. Scott Fitzgerald had transformed the American literary landscape and laid the foundation for a century that would put Irish writing at the forefront of American letters.
This series of essays by and about Irish-American writers traces that heritage from it's humble origins through the twentieth century. Editor Colin Broderick provides background essays on Brendan Behan's New York, Maeve Brennan's heartbreaking decent into madness, Frank McCourt's rise from school teacher to literary phenomenon, and 23 of today's top Irish-American authors provide personal accounts of how they found their voices in the Big Apple. Taken together, the stories provide a vivid portrait of a community of authors who continue to fight for Ireland's place at the top of literary canon.
"This collection of essays and remembrances is bursting at the seams with talent. Irish writers finding their voice in New York City is a long and revered tradition, and this book shows that tradition to be alive and well in the new century. If it's wit, wisdom and dazzling prose that you're looking for, The Writing Irish of New York will not disappoint." --T.J. English, New York Times bestselling author of The Savage City
"This is a fascinating book which I read at one sitting--containing no end of insight, with chunks of unanticipated wisdom and the finest of contemporary writing. A delicious feast." --Patrick McCabe, author of The Butcher Boy and Breakfast on Pluto