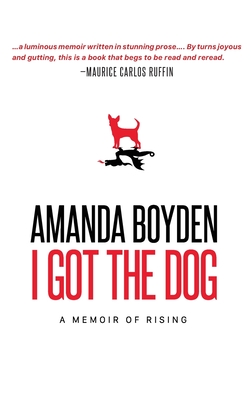 I Got the Dog
A Memoir of Rising
Hardcover

* Individual store prices may vary.
Other Editions of This Title:
Paperback (8/12/2020)
Description
I Got the Dog has teeth. Amanda Boyden's memoir is unflinching, poignant, raw, sometimes hilarious, sometimes brutally painful--the self-portrait of a woman unafraid to scream into the universe: I survived this And this. And this. Follow my lead.
Dog tails Boyden from childhood in Chicago to adult heartbreak, from a devastating rape as a young woman, reexamined and illumined by distance, to the crushing end of her marriage to a famous Canadian author, destroyed by infidelity and another woman's pregnancy.
Boyden hasn't just survived, though. She chooses to rise. She gets up from the pavement and dusts herself off. She stands and says: You, too, can do this. This memoir finds joy in the details, courage in family, beauty in the natural world, and salvation in a little chihuahua who hangs in there through thick and thin.
Amanda Boyden is the author of two novels, Pretty Little Dirty and the international bestseller Babylon Rolling. Her short fiction and nonfiction have appeared in Maclean's, Globe and Mail, Third Coast, Mid-American Review, Sonora Review, and others. The recipient of Nerve.com's Henry Miller Award for Best Literary Sex Scene in Pretty Little Dirty, she lives in New Orleans with her rescue chihuahua, Fry.
Lavender Ink, 9781944884833, 228pp.
Publication Date: August 12, 2020