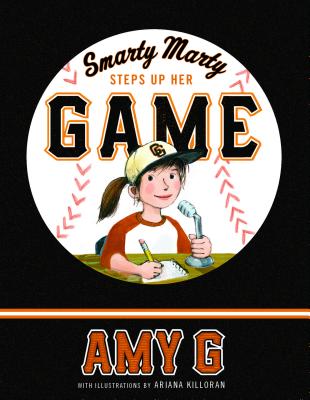 Smarty Marty Steps Up Her Game (Hardcover)
Cameron Kids, 9781944903084, 132pp.
Publication Date: April 4, 2017
* Individual store prices may vary.
Description
Smarty Marty, and her little brother Mikey, are back in the first in a series of illustrated chapter books, about a girl who loves baseball, written by San Francisco Giants in-game reporter Amy Gutierrez. Smarty Marty is the official scorekeeper for her little brothers Little League team. But when the game announcer fails to show up for the first game, Marty is called to announce the game, inspiring her dream not only to score but to announce. But not everyone is happy about a girl getting to announce a baseball game.
About the Author
Amy Gutierrez is the San Francisco Giants in-game reporter for Comcast SportsNet Bay Area. She also contributes to G-Mag, Giants Pregame Live, Giants Postgame Live, and SportsNet Central. Raised in Petaluma, California, Gutierrez spent her childhood watching or playing sports. She learned to score baseball from her mom, to play baseball from her dad, and to love baseball from her grandmother. She is the author of Smarty Marty's Got Game, illustrated by Adam McCauley. Ariana Killoran creates illustrations for books, magazines, films and her daughter's lunchbox. With scientists at 23andMe, she has developed educational videos about genetics and human prehistory. Ariana lives on the coast of Maine with her husband and two daughters.