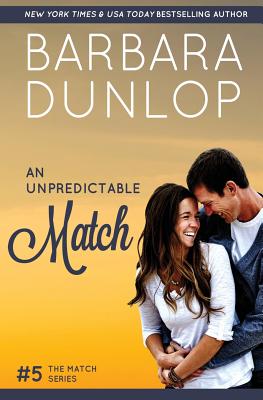 An Unpredictable Match (Paperback)
Tule Publishing Group, LLC, 9781944925598, 246pp.
Publication Date: June 13, 2016
* Individual store prices may vary.
Description
From New York Times Bestselling Author Barbara Dunlop, a comedic, contemporary romance series featuring the high-tech antics of matchmaking senior citizens unleashed on their unsuspecting heirs.

When Hammond Vashon's family mansion is invaded by a Hollywood film production, he senses a conspiracy. He knows his grandmother Daisy has plans to match-make him, and it doesn't take long to identify his grandmother as the force behind the production and starlet Pippa Carrington as his intended match.

Line producer MacKenzie Bowen is shocked when Hammond kicks her boss off the set and promotes her to producer. She's attracted to handsome, wealthy mansion owner, but she knows better than to get romantically involved with the guy at the top of the film food chain--at least, she ought to know better.

Fascinated by MacKenzie, and more than interested in a exploring their mutual attraction, Hammond lets his guard down. Busy avoiding Pippa and worrying about his grandmother's machinations, he doesn't realize his true match is MacKenzie until it's too late.