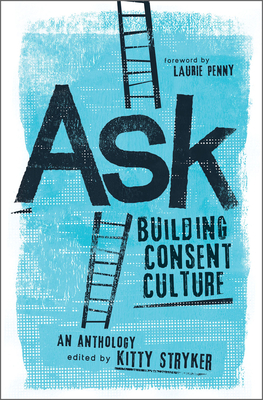 Ask
Building Consent Culture
Paperback

* Individual store prices may vary.
Description
Have you ever heard the phrase "It's easier to ask forgiveness than permission?" Violating consent isn't limited to sexual relationships, and our discussions around consent shouldn't be, either. To resist rape culture, we need a consent culture—and one that is more than just reactionary. Left confined to intimate spaces, consent will atrophy as theory that is never put into practice. The multi-layered power disparities of today's world require a response sensitive to a wide range of lived experiences.  In Ask, Kitty Stryker assembles a retinue of writers, journalists, and activists to examine how a cultural politic centered on consent can empower us outside the bedroom, whether it's at the doctor's office, interacting with law enforcement, or calling out financial abuse within radical communities. More than a collection of essays, Ask is a testimony and guide on the role that negated consent plays in our lives, examining how we can take those first steps to reclaim it from institutionalized power.
Praise For Ask: Building Consent Culture…
"Ask is a good and definitely past-due read extending the idea of consent beyond the 'yes means yes' framework, with pieces exploring, in various ways, what it means to create consent cultures in a world that is overwhelmingly coercive." —Reina Gattuso, feministing.com

"Like you, I have good intentions. Like you, I know some things about consent. But I thought I knew a lot more. And if there's one successful barometer of a book like this, it's how many 'a-ha' moments it contains. If you're anything like me you will find a lot of them in this book–some enlightening and pleasurable, many more uncomfortable and several downright horrific, especially as you realise your own crimes and also how many times your own consent has been violated. But you've got to start somewhere and that somewhere is here." —Louisa Leontiades, thebodyisnotanapology.com

"This is not a handbook, but a wonderful guide that suggests new ideas about social awareness and responsibility." —Claire Foster, Foreword Reviews

"The collection will prove a useful addition to the toolkit for those who are working towards not just towards sexual equality, but equity in all areas of public life." —Sofia Kaufman, michigandaily.com

"As Kitty Stryker, an anti-fascist activist, queer sex educator, and frequent writer on the topic of consent notes in the introduction to Ask, 'Most books I found about rape culture and consent were written by and for middle-class, white, cisgender women.' She was determined to bring together one that centered trans and non-binary writers of color. But the book is not only inclusive in its authorship, it's also expansive in it's coverage of the multiplicity of contexts in which consent is important—most of which are typically overlooked. The anthology, which was published by Thorntree Press in late October, includes 'Fatphobia and Consent: How Social Stigma Mitigates Fat Women's Autonomy' by Virgie Tovar, 'Giving Birth When Black' by Takeallah Rivera, 'The Kids Aren't All Right: Consent and Our Miranda Rights' by Navarre Overton, and 27 other essays that range in setting from sex parties to the service industry. At a time when every conversation seems to be about consent (or lack thereof, rather), it's a collection that actually adds to the discussion in crucial ways, and would prove enriching even to those who consider themselves pros at discussing sex, consent, and feminism." —Sarah Burke, broadly.vice.com

"Foreword Review's 2017 INDIES winner: honorable mention for women's studies." —www.forewordreviews.com
Thorntree Press, 9781944934255, 224pp.
Publication Date: October 27, 2017
About the Author
Kitty Stryker is a writer, activist, and authority on developing a consent culture in alternative communities. She is the founder of www.ConsentCulture.com, a hub for LGBT, kinky, and polyamorous folks looking for a sexcritical approach to relationships. Kitty also cofounded the artsy sexy party Kinky Salon London, as well as creating the award-winning Ladies High Tea & Pornography Society. She also created the San Francisco–based kink party Whippersnappers, and acted as head of cosplay for queer gaming convention GaymerX. Kitty tours internationally, speaking at universities and conferences about feminism, sex work, body positivity, queer politics, and more. She lives in Oakland, California, with her wife, boyfriend, and two cats, Foucault and Nietzsche.