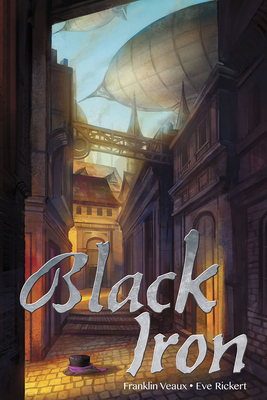 Black Iron (Impious Empires) (Paperback)
Thorntree Press, 9781944934651, 336pp.
Publication Date: October 26, 2018
* Individual store prices may vary.
Description
It's 1855, but not as we know it. The schism between the One True French Catholic Church and the heretical Italian Catholic Church has stoked three centuries of conflict, imploding the dream of European ascendancy. Thousands flee the Spanish Inquisition for havens in Germany, France, Britain and the colonies of the New World.

The face and character of London has been indelibly altered by generations of refugees. Tasked with keeping order and preserving the ecumenical vision of the Holy French Catholic Church in the face of throngs clamoring for traditional British values, the London police find themselves in an awkward position. And nobody is quite sure how to deal with the technological innovation of animates: mindless laborers crafted from the body parts of the dead.

A murderous plot with far-reaching implications casts a city torn between renaissance and tyranny as the unwitting catalyst for unspeakable global calamity. The fate of this world lies, as it often does, in the hands of a motley and disparate crew brought together by inglorious serendipity. Ironworks and iron fists will take London, and the Old World with it, to the cutting edge of a treacherous new century.
About the Author
Eve Rickert has been a professional writer and editor for more than ten years and owns Talk Science To Me, a science communications firm based in Vancouver, Canada. With Franklin Veaux, she is the cofounder of Thorntree Press and Tacit Pleasures.

Franklin Veaux writes about everything from relationship ethics to transhumanism to computer security and has been a Quora Top Writer every year since 2015. With Eve Rickert, he is the cofounder of Thorntree Press and Tacit Pleasures.
Praise For Black Iron (Impious Empires)…
"The enthusiasm is infectious, and readers will quickly find themselves becoming caught up in the characters, the intrigue, and the slightly altered customs of this well-plotted mystery. A satisfying alternate-history work that doesn't skimp on adventure." —Kirkus Reviews
"The humour is there in so many ways, especially the dialogue. This is my new favorite book." —Jennie Rosenblum, Hazel