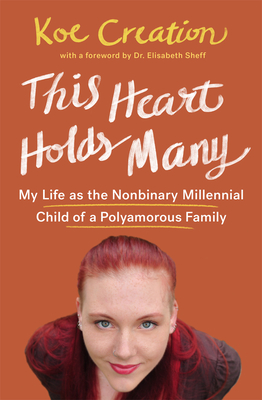 This Heart Holds Many
My Life as the Nonbinary Millennial Child of a Polyamorous Family
Paperback

* Individual store prices may vary.
Description
Many of us were asked by our mother to do the dishes as children. Perhaps some of us would need to be asked more than once. Koe Creation was the type who'd get asked three times, by three different mothers. Crowded parent-teacher conferences, queer youth summer camp, and parental adoptions over potluck dinner were typical of Koe's upbringing in a queer, polyamorous family. Taught from young age to embrace sex-positivity and LGBT acceptance, Koe had an experience of "family values" that differs wildly from many raised in conservative North America. Still: all families know conflict and all hearts know struggle, no matter how loved. Though a poster child for the alternative Seattle community, Koe yearned for a realization of theirself beyond the "shadow of their tribe." This drive for a singular identity led Koe to leave the alt-Seattle scene to find the self that no one person or family could make for them. This Heart Holds Many is a testament of transformative, communal love, as told by an educator and life-long learner who has dedicated their life to helping others grasp their extraordinary love.
Praise For This Heart Holds Many: My Life as the Nonbinary Millennial Child of a Polyamorous Family…
"In a rare peek into the life of a "polykid" raised by five parents, Koe offers anecdotes from their life with a polytribe. From the pregnant lady sandwich to the chaotic (mis)adventures of young love or the trials and triumphs of adulting, Koe guides readers through the life of a second generation polyamorous person with charming candor." —Elisabeth Sheff

"This autobiography of a young adult raised in a polyamorous pagan extended family is full of information for parents and kids of all backgrounds. Useful ideas abound and lead the reader to question the traditional wisdom of our society." —David S. Hall, 
Founding editor, Electronic Journal of Human Sexuality

"A individual voice with a unique and fascinating story to tell." —Barry Smiler, BMorePoly

"This fast-paced memoir grabs you like a piece of Heinlein's science fiction, while serving as a guide, a warning, an encouragement, and a wise teaching tool for families of every kind kind." —Alan MacRobert, publisher of Polyamory in the News

"The question I get a lot is 'But what about the children?' Having a firsthand account of someone who lived and loved and learned in a polyamorous household is invaluable to any of us raise children in the same environment. Bravo!" —Kevin Patterson, Curator of Poly Role Models and author of Love's Not Color Blind and the 'For Hire' series

"In this remarkably vulnerable piece of writing, Koe shares landmarks of their life as a means of answering the most frequently asked questions about poly youth. Highly recommended for anyone considering poly parenthood." —Cunning Minx, http://polyweekly.com/

"Koe boldly shares their story and provides a helpful guide for navigating the complexities of polyamorous family structures. This is a must-read for everyone who chooses to live outside the box and create the best life for themselves!" —Eri Kardos, best-selling author of Relationship Agreements: A Simple and Effective Guide for Strengthening Communication, Reducing Conflict, and Increasing Intimacy to Design Your Ideal Relationship

"This Heart Holds Many held me transfixed. Koe's writing is so intimate and honest that I felt like I was a part of their polycule." —Annie Sprinkle, author of Explorer's Guide to Planet Orgasm

"This Heart Holds Many is a thoughtful, hopeful LGBTQ+ memoir that includes parenting guidance on creative ways to raise children collectively and compassionately." —Laura Leavitt, Foreword Reviews

"Until the mid-2000s, interest in and information about polyamory were relatively rare, but then came the internet, and interest soared. Now Creation offers this first-ever memoir of growing up in a polyamorous family to partially satisfy that interest." —Michael Cart, https://www.booklistonline.com/
Thorntree Press, 9781944934729, 192pp.
Publication Date: March 29, 2019
About the Author
Koe Creation grew up in a sex-positive, polyamorous family in Seattle, Washington. They have taught sex education and relationship skills among top educators in the US for the past decade. Koe is a frequent cohost of the Polyamory Weekly podcast and presents at conferences all over the country. Dr. Elisabeth Sheff is an educational consultant and expert witness serving sexual and gender minorities. She is the author of The Polyamorists Next Door: Inside Multiple-Partner Relationships and Families and the editor of Stories From the Polycule: Real Life in Polyamorous Families.
or
Not Currently Available for Direct Purchase