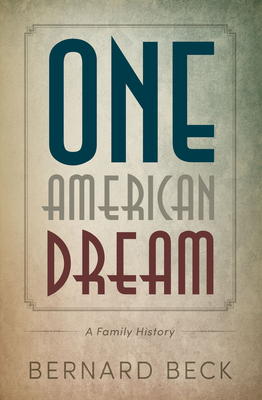 One American Dream (Paperback)
A Family History
Amberjack Publishing, 9781944995096, 268pp.
Publication Date: March 21, 2017
* Individual store prices may vary.
Description
The only thing Jack Rubin ever wanted was to be a real American. A Jewish immigrant from Poland, he arrives in New York City in the late 1800s and begins his American journey by pulling himself up by the bootstraps. But his success doesn't satisfy him, and when he struggles while raising a headstrong daughter through the roaring twenties, he feels like a failure. Only when he finds himself helping those less fortunate during the Great Depression does Jack realize that he's been a real American all along.
About the Author
A native of the New York/New Jersey area, Bernie attended Jewish religious school and then City College in Manhattan. Following graduation in 1959, he spent two years in the army, then managed his father's giftware business for thirty years. After the recession of 1988, he began his second career as a business consultant and an adjunct professor of marketing at Rutgers University.  

Upon retirement, Bernie authored the books The Bible, The Greatest Marketing Tool Ever Written and True Jew, Challenging the Stereotype, drawing upon his religious school background, combined with his marketing knowledge. Bernie has been married to his wife Judy for fifty-five years and together they have three children and five grandchildren. They live in New Jersey, about ten miles west of New York, where they have lived nearly all of their married lives.