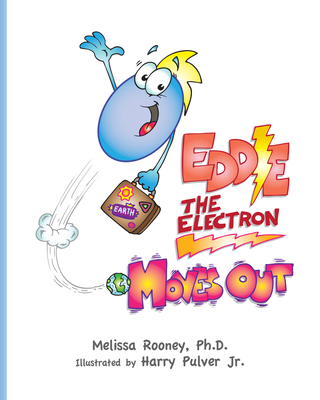 Eddie the Electron Moves Out (Paperback)
Amberjack Publishing, 9781944995140, 27pp.
Publication Date: June 20, 2017
* Individual store prices may vary.
Description
In this sequel to Eddie the Electron, Eddie is free from the balloon which held his Helium atom, and he's off on a new adventure, as his lighter-than-air atom rises above the houses and trees… All the way to the upper reaches of Earth's atmosphere, where sky and space meet.
Along the way, Eddie will teach young readers atomic concepts as he reminisces about the creation of his Helium atom, and how it and other Helium atoms are harvested and used. Eddie will also teach readers about the Earth's dwindling reserve of Helium, and how vitally important it is to conserve the precious gas.
About the Author
Before writing children's books, Melissa (Bunin) Rooney grew up in Martinsville, VA, attended the College of William and Mary, and earned her Ph.D. in Chemistry from the University of North Carolina. 
One of her passions is introducing scientific concepts to children and fueling their interest, especially when they don't immediately understand. After all, the things we don't understand are the most intriguing, and contemplating them results in scientific and technological advances (not to mention employment!). 
Find out more about Melissa at www.melissarooneywriting.com, or visit her on Facebook at www.facebook.com/melissarooneywriting/. 
HARRY PULVER JR. has worked as a professional illustrator for over 30 years. His clients include Crain's New York Business, The Wall Street Journal, Cargill Inc., Coca Cola, Microsoft, 3M, Sony/Epic Music Group, American Lung Assoc., Scholastic Inc., National Geographic World and The Children's Television Workshop. 
He attended St. Olaf College, The Minnesota College of Art and Design, and Pratt Manhattan School of Design. 
When he's not drawing, Harry also plays accordion in his award winning Polka Rock band, TUBBY ESQUIRE. You can see more of his artwork or contact him at www.harrypulver.com.