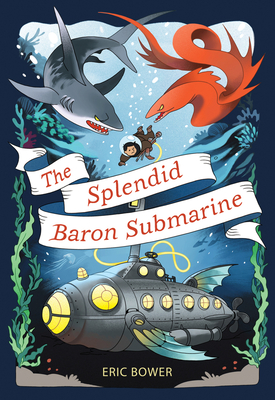 The Splendid Baron Submarine (The Bizarre Baron Inventions #2) (Hardcover)
Amberjack Publishing, 9781944995256, 244pp.
Publication Date: November 14, 2017
Other Editions of This Title:
Paperback (12/11/2018)
* Individual store prices may vary.
Description
"The Splendid Baron Submarine is delightfully absurd, imaginative, and fun—a wonderful book for middleschool children to read on their own, and an even better book for families to read aloud together." - Foreword Reviews, Starred Review


Pirate treasure? A top secret mission? A terribly rude monkey with personal boundary and hygiene issues? Two out of three of those things sound like a dream come true to the young, clumsy, and terribly unscientific Waldo "W.B." Baron, when his clever inventor parents are hired to go on a secret treasure hunt. The Baron family dives into adventure with their steam-powered submarine, but they aren't prepared for the complications that occur during their trip, which include shark attacks, deep sea diving mishaps, and even a pirate's curse, all of which W.B. is lucky enough to discover, one stumble, trip, and fall at a time. 
About the Author
Eric Bower is the author of "The Bizarre Baron Inventions" series. He was born in Denville, New Jersey, an event of which he has little recollection, yet the people who were there have repeatedly assured him that it happened. He currently lives in Pasadena, California. His favorite type of pasta is cavatappi, his favorite movie is "The Palm Beach Story," and he is the proud recipient of a "Beanology Degree" from Jelly Belly University in Fairfield, California. His wife and family have told him that the degree is nothing to be proud of, since "It's not a real degree. You know that . . . Right?" and "Eric, they literally give them to everyone who visits the Jelly Belly factory," but he knows they're all just jealous.
or
Not Currently Available for Direct Purchase