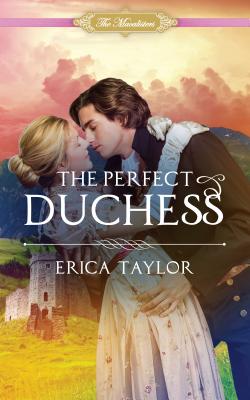 The Perfect Duchess (The Macalisters #2) (Paperback)
Amberjack Publishing, 9781944995577, 392pp.
Publication Date: April 17, 2018
* Individual store prices may vary.
Description
Andrew Macalister, oft regarded as the Stone Duke of Bradstone, hates his annual birthday ball tradition. He dislikes facing those around him who only see him for his title, and has given up on a chance to live a normal life. That is, until he spots Lady Clara Masson across the ballroom. Clara's twin sister is the woman who infamously jilted Andrew at the altar five years ago, but little does Clara know, Andrew had been smitten with her since childhood, and he finds her presence a ray of sunshine in a dreary dukedom. 

When Clara's life is threatened by her evil brother, Johnathan, Andrew must do the only thing he can think of to save her: propose marriage. Between Clara's trust issues and Andrew's battle with societal norms, two find romance under dangerous circumstances. 
About the Author
Erica Taylor is a mother of two and military wife married to her high school sweetheart. Raised in the mountains of Colorado, she holds a BA in History from the University of Colorado. Erica has been writing stories since she can remember, picked up her first romance novel while on a beach vacation as a teenager, and fell in love with falling in love, with sexy heroes and the feisty women who challenge their lives.
A self-confessed geek, Erica loves anything Harry Potter, Doctor Who or Star Wars, can spend hours in Target with a Starbucks, and truly believes a cat makes a home. Currently living in South Africa, Erica can often be found writing during soccer practice or piano lessons and is not afraid to let dinner burn if it means getting the story out of her head.