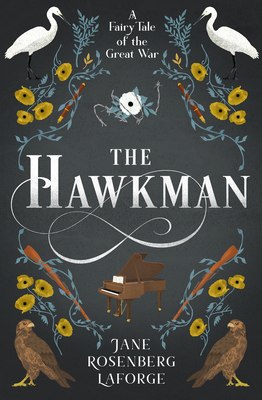 The Hawkman
A Fairy Tale of the Great War
Paperback

* Individual store prices may vary.
Description
A great war, a great love, and the mythology that unites them; The Hawkman: A Fairy Tale of the Great War is a lyrical adaptation of a beloved classic.

Set against the shattering events of the late 19th and early 20th centuries, at the tale's heart are an American schoolteacher—dynamic and imaginative—and an Irish musician, homeless and hated—who have survived bloodshed, poverty, and sickness to be thrown together in an English village. Together they quietly hide from the world in a small cottage. 

Too soon, reality shatters their serenity, and they must face the parochial community. Unbeknownst to all, a legend is in the making—one that will speak of courage and resilience amidst the forces that brought the couple together even as outside forces threaten to tear them apart. 
Praise For The Hawkman: A Fairy Tale of the Great War…
Nominated for the Montaigne Medal from the Eric Hoffer Award —http://www.hofferaward.com/Montaigne-Medal-finalists.html
Amberjack Publishing, 9781944995676, 320pp.
Publication Date: June 5, 2018
About the Author
Jane Rosenberg LaForge was born in Los Angeles to a pair of political and news junkies. As a child, she grew up in Laurel Hills, a suburb adjacent to the storied, some say enchanted, enclave of visual artists, hippies, rock 'n' roll musicians, and Hollywood actors known as Laurel Canyon. This milieu shaped her lifelong fascination with history, politics, subcultures, and folklore. She also studied ballet, which introduced her to the world of fairy tales and legends of supernatural transformation.
Jane's first professional writings were as a journalist. Her reporting took her throughout California, Maryland, and upstate New York. She enrolled in a graduate creative writing program in order to write a novel based on a court case she covered. Her studies led to a career as a college English instructor and writing literary criticism. She has published articles on fairy tales and the influence of African folklore on contemporary authors. As a college instructor, she has taught composition, children's literature, and African American literature.
After the birth of her daughter in 2000, Jane found little time to write at length and began exploring poetry. In 2009, she published her first chapbook of poems and later brought together all her interests to write An Unsuitable Princess: A True Fantasy/A Fantastical Memoir. An Unsuitable Princess was an annotated fairy tale with poetry that told the story of her adolescence as a Hollywood outsider. All together she has published four poetry chapbooks and two full-length collections. The most recent is Daphne and Her Discontents, an examination of the Greek myth of a girl who turns into a Laurel tree—which gave Jane's childhood neighborhood its name—to avoid Apollo's advances.
Jane now lives in New York with her husband, Patrick; daughter, Eva; and their cat, Zeka.
or
Not Currently Available for Direct Purchase