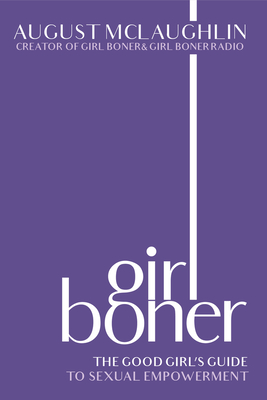 Girl Boner
The Good Girl's Guide to Sexual Empowerment
Hardcover

* Individual store prices may vary.
Other Editions of This Title:
Digital Audiobook (12/3/2018)
Compact Disc (12/4/2018)
MP3 CD (12/4/2018)
Description
In a culture where female empowerment is used to sell everything from sex toys to soap, most sex education continues to bypass pleasure. The results are stark; we've grown accustomed to slut- and prude-shaming and allowed others to dictate how a "good girl" is meant to feel, act, and look.

In Girl Boner: The Good Girl's Guide to Sexual Empowerment, August McLaughlin offers an inclusive, unfiltered blend of personal narrative and practical tips on relationships, solo play, journaling, gender issues, and more. From the perks of "Jilling off" to the 7 types of 'gasms, Girl Boner will "empower you to own your sexual self and enjoy … your whole life a great deal more."
Praise For Girl Boner: The Good Girl's Guide to Sexual Empowerment…
"Terrifically encouraging... McLaughlin has written a thorough primer on everything from sex toys to bondage to 'no means no,' intended for women readers who might be new to the idea that they deserve, and own, their personal pleasure."
—The Times Book Review
"McLaughlin carefully homes in on the myriad ways that mental and physical health connect with sexuality in this uplifting and refreshingly inclusive guide to women's sexual health based on a podcast of the same name. Combining sex advice with health information, McLaughlin addresses sex work, body image, sexually transmitted diseases, along with topics like masturbation and sex positions, while using language ("person with a vulva" and "person with a penis") to ensure inclusion of trans and gender-nonbinary people throughout. In a chapter detailing her own personal recovery from anorexia, the author interrogates how lack of sexual empowerment can contribute to body image issues and a damaged sense of self. This message is reinforced later in a profile of the Olympic runner and former escort Suzy Favor Hamilton, who notes that cultivating sex positivity was a crucial part of her recovery from postpartum depression. McLaughlin balances these heavier chapters with lighter fare, including a coloring page, word search, prompts for further reflection, and plenty of illustrations. Equally fun, risqué, and informative, this is a welcome addition to sexual health literature."
 —Publisher's Weekly
"In Girl Boner: The Good Girl's Guide to Sexual Empowerment, August McLaughlin touches on topics that sex ed classes skip. Her aim is to give all of those who identify as women the tools necessary to figure out how to own their sexuality. You're bound to find it inspiring and, er, stimulating." —Bustle
"…terrifically encouraging…a thorough primer on everything from sex toys to bondage to 'no means no…'" —The New York Times
"August McLaughlin is a powerful and necessary voice in a world that is finally ready to listen. Her work to demystify and destigmatize frank talk about sex and sexuality encourages a new generation of women to proudly embrace their personal journeys." —Dr. Lisa Masterson
"August McLaughlin takes on sexuality, body image, depression and female empowerment head on! One part memoir, one part sociological manifesto = something of interest for women of all ages... She hit the nail on the head with this book. Frank personal stories and interviews interspersed throughout the book help us unpack our personal inner conflicts that when unexamined suck the joy out of the female experience." —Cheryl Grant M.A., MFT, Psychotherapist 
"Discussions about sexual health and desires help young women to better understand who they are. Unfortunately, these conversations are few and far between, leaving many woman grappling with their sexual feelings. I could not think of a more compassionate and sincere person to lead these conversations than August McLaughlin. Her experiences and conversational writing style create a sense of trust for her reader. I would highly recommend Girl Boner in my practice and to my friends." —Cora Reidenbach, School Psychologist
"With uncommon intelligence and humor, August tells us everything we want to know about the guilt-free pursuit and enjoyment of female orgasm. As Chief Passion Curator for Bring Back Desire I understand the challenges women face in trying to experience authentic sexual excitement. Girl Boner is a book every woman should read, including our daughters, not just for the pleasure it offers, but because it validates the link between female orgasm, power and happiness. I can't wait to carry Girl Boner at Bring Back Desire!" —Ande Lyons, Chief Passion Curator of Bring Back Desire and host of the After Dark Radio Show 
"Girl Boner is the book on female sexual empowerment we've been waiting for. August McLaughlin takes on the question of female pleasure and sexual autonomy in an unflinching, sometimes irreverent and always honest fashion. Opening up about everything from masturbation to anorexia, religion to the cult of female beauty, and everything in between, August shares her story in order to help readers tell their own. I'm so excited to use this book in my university classes about gender and sexuality. It's the first book I've found that bridges the gap between academic theories of female sexuality and real life. With its confessional style and insightful exercises, reading Girl Boner is like having a sleepover with your cool older sister. This book has the potential not only to empower young women sexually, but to change their lives in radical and important ways." —Susan Harper, Ph.D. Anthropologist, Sociologist, Sex Educator, and Professor of Gender Studies 
Amberjack Publishing, 9781944995713, 368pp.
Publication Date: August 7, 2018
About the Author
August McLaughlin is a nationally recognized journalist, media personality and host and creator of Girl Boner® and Girl Boner Radio. Her articles have appeared in Cosmopolitan, The Washington Post, DAME Magazine, HuffPost and more and her expertise has been featured in a range of major media outlets, including O: The Oprah Magazine, Forbes, Shape, Elite Daily and Bustle.

Known for melding personal passion, artistry and activism, August uses her skills as a public speaker and writer to encourage others to embrace their bodies, sexuality and selves, making way for fuller, more authentic lives. augustmclaughlin.com