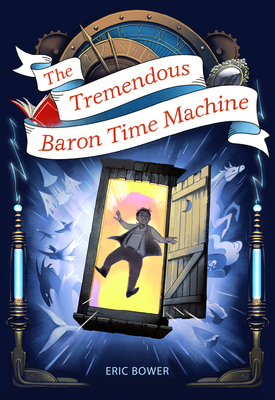 The Tremendous Baron Time Machine (The Bizarre Baron Inventions #4) (Hardcover)
Amberjack Publishing, 9781944995782, 229pp.
Publication Date: April 16, 2019
Other Editions of This Title:
Paperback (10/15/2020)
* Individual store prices may vary.
Description
W.B. is back and more disappointed than ever when he discovers a new series of popular books that depict the Barons as bumbling fools. His parents M and P, along with Rose Blackwood, laugh at the books until their plummeting reputation starts scaring off the buyers of their inventions, leaving the family without an income. 

As family members start disappearing one by one, P realizes that the author of the books is not out to ruin just their reputation, he's determined to erase their past. All of the Barons must race to intercept their rival time-traveler and stop him from erasing the entire Baron family from existence before their time runs out.
About the Author
Eric Bower is the author of The Bizarre Baron Inventions series. He was born in Denville, New Jersey, an event of which he has little recollection, yet the people who were there have repeatedly assured him that it happened. He currently lives in Pasadena, California. His favorite type of pasta is cavatappi, his favorite movie is The Palm Beach Story, and he is the proud recipient of a "Beanology Degree" from Jelly Belly University in Fairfield, California. His wife and family have told him that the degree is nothing to be proud of, since "It's not a real degree. You know that... Right?" and "Eric, they literally give them to everyone who visits the Jelly Belly factory," but he knows that they're all just jealous.