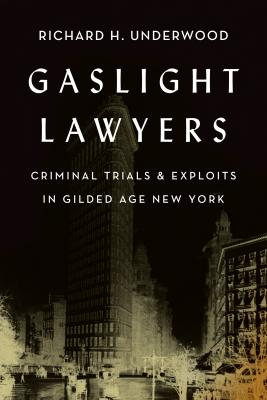 Gaslight Lawyers (Hardcover)
Criminal Trials & Exploits in Gilded Age New York
Shadelandhouse Modern Press, 9781945049019, 267pp.
Publication Date: September 19, 2017
* Individual store prices may vary.
Description
A fascinating history of crime and punishment, Gaslight Lawyers paints a serious but entertaining portrait of colorful characters, courtroom drama, and the emerging importance of forensic science and medical-legal jurisprudence in Gilded Age New York City.From the 1870s to the early 1900s, post-Civil War New York City was becoming a wonder city of commerce and invention, art and architecture, and emerging global prominence. It was also a city of crime, corruption, poverty, slums, and tenements teeming with newcomers and standing in sharp contrast to the city mansions and the extravagant lifestyle of the rising American aristocracy. The New York City of those days is not just the venue of the intriguing true stories told in this book-it is also a supporting actor in them.The Gaslight Era has been called the Second Golden Age of the New York Bar. Gaslight Lawyers sheds new light on a gallery of notables of the day, including the exploits of famous William "Big Bill" Howe and his archrival, Tammany prosecutor Francis Wellman, along with trial tactics and ethics of the day-skullduggery on both sides. It tells of the passing of the old guard and the rise of a new generation of criminal defense lawyers, and the aggressive and sometimes ruthless prosecutors. It also chronicles judges and politicians, police bungling and corruption, and famous physicians and "alienists," like Dr. Allan McLane Hamilton, the grandson of Alexander Hamilton. Other characters, such as photojournalist and reformer Jacob Riis, and infamous criminals of the day illuminate the social conditions.Drawing from the experience of a legal scholar and from a wealth of meticulous research gleaned from trial transcripts, other court records, contemporary newspaper stories, and memoirs, Richard H. Underwood also reconstructs and recounts the absorbing legal drama of a number of spectacular murder trials.Gaslight Lawyers is a compelling, witty, and insightful account of an important era in American legal history. It reminds us to acknowledge and deal with biases that continue to manifest themselves in our criminal justice systems today and to be mindful that we "are the guardians of the law."
About the Author
Richard H. Underwood is currently the Edward T. Breathitt Professor of Law at the University of Kentucky College of Law. He is the award-winning author of CrimeSong: True Crime Stories from Southern Murder Ballads (2016) and the co-author of several books on evidence, trial technique, and legal ethics. Richard has published numerous articles on the law, legal history, perjury, famous trials, and true crime, and he has lectured or presented papers on diverse subjects at conferences across the United States and in London and Amsterdam.

Professor Underwood began teaching at the University of Kentucky in 1980. Prior to that he clerked for U.S. District Judge David S. Porter (1976-78) and practiced at the Columbus, Ohio firm of Vorys, Sater Seymour and Pease. Professor Underwood served as the Chairman of the Kentucky Bar Associations Ethics Committee (1984-1998), Chairman of the Unauthorized Practice Committee (1984-1996), and Chairman of the KBA Model Rules Committee (1988-1989). He was a member of the ABA Standing Committee on Ethics and Professional Responsibility (2011-2014). He is a Fellow of the American Bar Foundation and a Life Fellow of the Kentucky Bar Foundation. Professor Underwood is currently a member of the Kentucky Supreme Court Evidence Rules Review Commission. He served in the Army from 1969 to 1973, and he is a Viet Nam War Veteran.

Gregory J. Davis, MD, FCAP, is Professor and Director, Forensic Consultation Service, Department of Pathology and Laboratory Medicine at the University of Kentucky College of Medicine. He is also the former Associate Chief Medical Examiner of the Commonwealth of Kentucky,
Praise For Gaslight Lawyers: Criminal Trials & Exploits in Gilded Age New York…
"Once again, Richard H. Underwood combines thorough research, a gift for narrative, and a sly sense of humor—this time in his recounting of the exploits of the lawyers of the Gilded Age. This book will be enjoyed by anyone interested in that era, American lawyers, or trial work."
—John Steele, Legal Ethicist and Adjunct Lecturer in Legal Ethics, UC Berkeley School of Law

"Professor Underwood's Gaslight Lawyers brings alive a fascinating time in New York City. It vividly depicts a colorful style of criminal prosecution and defense that, though (fortunately) no longer with us, is well worth revisiting. A worthy addition to the history of crime and punishment!"
—Bruce Green, Professor, Fordham Law School, and Director, Louis Stein Center for Law and Ethics

"Richard Underwood's Gaslight Lawyers is the nineteenth-century equivalent of Better Call Saul—surprising, insightful, and hilarious. Charles Dickens would approve."
—Brian L. Frye, Spears-Gilbert Associate Professor of Law, University of Kentucky; filmmaker; Co-Producer of the documentary Our Nixon (2013)

"Professor Underwood's chosen stories in Gaslight Lawyers are gripping…"
—Gregory J. Davis, MD, FCAP, Professor and Director, Forensic Consultation Service, University of Kentucky College of Medicine


or
Not Currently Available for Direct Purchase