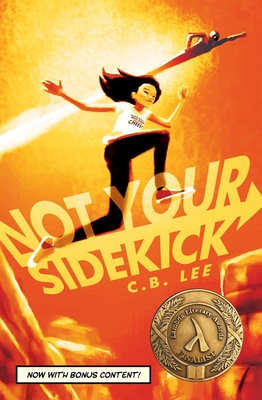 Not Your Sidekick (Paperback)
Duet, 9781945053030, 296pp.
Publication Date: September 8, 2016
* Individual store prices may vary.
Description
Welcome to Andover, where superpowers are common, but internships are complicated. Just ask high school nobody, Jessica Tran. Despite her heroic lineage, Jess is resigned to a life without superpowers and is merely looking to beef up her college applications when she stumbles upon the perfect (paid ) internship--only it turns out to be for the town's most heinous supervillain. On the upside, she gets to work with her longtime secret crush, Abby, whom Jess thinks may have a secret of her own. Then there's the budding attraction to her fellow intern, the mysterious "M," who never seems to be in the same place as Abby. But what starts as a fun way to spite her superhero parents takes a sudden and dangerous turn when she uncovers a plot larger than heroes and villains altogether.
About the Author
C.B. Lee is a bisexual writer, rock climber and pinniped enthusiast based in California. She is a first-generation Asian American and has a BA in Sociology and Environmental Science, which occasionally comes in handy in her chosen career, but not usually. Lee enjoys reading, hiking and other outdoor pursuits. Her first novel, Seven Tears at High Tide, was published by Duet Books (Interlude Press) in 2015 and named a finalist for two Bisexual Book of the Year Awards. Ms. Lee is also a Lambda Literary Emerging LGBTQ Voices Fellow.
Praise For Not Your Sidekick…
"Jess and Abby are delightful characters and superhero fans like this reviewer will especially enjoy Lee's take on how superpowers work. I'm ready for the sequel!"—RT Book Reviews

""Not Your Sidekick is a smooth read with characters who hit the likeable zone between being overly self-involved and unrealistically altruistic." —Queer Sci Fi