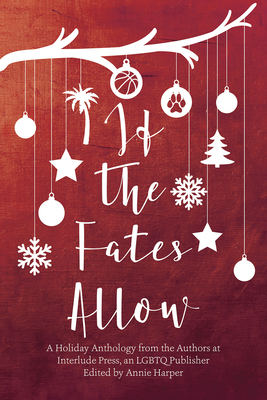 If the Fates Allow (Paperback)
A Holiday Anthology from the Authors at Interlude Press, an Lgbtq Publisher
Interlude Press, 9781945053474, 248pp.
Publication Date: December 1, 2017
* Individual store prices may vary.
Description
During the holidays, anything is possible--a second chance, a promised future, an unexpected romance, a rekindled love, or a healed heart. Authors Killian B. Brewer, Pene Henson, Erin Finnegan, Lilah Suzanne, and Lynn Charles share their stories about the magic of the season.
"Gracious Living Magazine Says It Must Be a Live Tree" by Killian B. Brewer
"True North" by Pene Henson
"Last Call at the Casa Blanca Bar & Grille" by Erin Finnegan
"Halfway Home" by Lilah Suzanne
"Shelved" by Lynn Charles
About the Author
Annie Harper is the Executive Editor of Interlude Press books.
Praise For If the Fates Allow: A Holiday Anthology from the Authors at Interlude Press, an Lgbtq Publisher…
The authors in this anthology include finalists and recipients of Foreword INDIES awards; the Lambda Literary Award, Publishers Weekly starred reviews and PW Best Books of the Year.