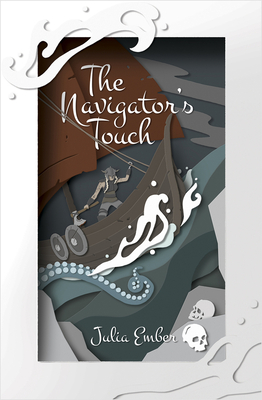 The Navigator's Touch (Paperback)
Duet, 9781945053702, 256pp.
Publication Date: September 13, 2018
* Individual store prices may vary.
Description
After invaders destroyed her village, murdered her family, and took her prisoner, shield-maiden Ragna is hungry for revenge. A trained warrior, she is ready to fight for her home, but with only a mermaid and a crew of disloyal mercenaries to aid her, Ragna knows she needs new allies. Guided by the magical maps on her skin, battling storms and mutiny, Ragna sets sail across the Northern Sea.
She petitions the Jarl in Skjordal for aid, but despite Ragna's rank and fighting ability, the Jarl sees only a young girl, too inexperienced to lead, unworthy of help. To prove herself to the Jarl and win her crew's respect, Ragna undertakes a dangerous expedition. But when forced to decide between her own freedom and the fate of her crew, what will she sacrifice to save what's left of her home?
Inspired by Norse mythology and J.M. Barrie's Peter Pan, this companion novel to The Seafarer's Kiss is a tale of vengeance, valor, honor, and redemption.
About the Author
Originally from Chicago, Julia Ember now resides in Edinburgh, Scotland. She spends her days working in the book trade and her nights writing teen fantasy novels. Her hobbies include riding horses, starting far too many craft projects, PokemonGo and looking after her city-based menagerie of pets with names from Harry Potter. Luna Lovegood and Sirius Black the cats currently run her life.