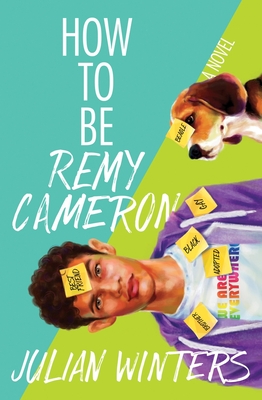 How to Be Remy Cameron
Paperback

* Individual store prices may vary.
Description
Everyone on campus knows Remy Cameron. He's the out-and-proud, super-likable guy who friends, faculty, and fellow students alike admire for his cheerful confidence. The only person who isn't entirely sure about Remy Cameron is Remy himself. Under pressure to write an A+ essay defining who he is and who he wants to be, Remy embarks on an emotional journey toward reconciling the outward labels people attach to him with the real Remy Cameron within.

From the author of the bestselling novel Running With Lions, a story about overcoming the labels that try to define our lives
Praise For How to Be Remy Cameron…
"A spirit-lifting and surprising coming-of-age story" — Foreword Reviews

"The relationships among the members of the mixed-race Cameron family (Remy's parents are white) and between Remy and his friends are nuanced and reflect a hopeful future for America. An endearing novel that gives hope to those who know what it's like being different." — Kirkus Reviews

"You've been warned: Remy Cameron is coming for your heart. I adored this tender, heartfelt love song of a book." — BECKY ALBERTALLI, author of Simon vs. the Homo Sapiens Agenda

"I always smile my way through a Julian Winters book. Remy's story of self-discovery is empowering and lovely." — ADAM SILVERA, NYT best-selling author of What If It's Us

"I don't often swoon, but I swooned HARD for this incandescent book. Julian Winters has crafted a deeply moving story of love, family, and identity that will stay with me forever." — ADIB KHORRAM, award-winning author of Darius the Great Is Not Okay

"Reading Remy is like gaining a best friend. Told with empathy, humor, and sincerity, this is an astounding follow-up for Julian Winters. The world needs Remy Cameron, and I, for one, am ready for everyone else to discover just how heartwarming this book is." — MARK OSHIRO, author of Anger is a Gift

"I loved this book so much. What a gift to the world, and to all the people—myself included—who are still trying to figure out an answer to the question, 'Who am I?' Julian Winters' answer should include, 'A fabulous author everyone should read.'" — BILL KONIGSBERG, award-winning author of The Music of What Happens

"A laugh-out-loud-but-oh-no-now-you're-crying novel about identity, family and adoption, Julian Winters' latest book is not to be missed. It spoke to me on a very personal level, and I'll be talking about for a long time." — Eric Smith, author/agent; columnist for Paste Magazine

"Rembrandt "Remy" Joshua Cameron is known at Maplewood High School for his confidence and super-likable personality. He is one of five African American students and president of the Gay-Straight Alliance. He is the adopted son in a loving white family, which includes Uncle Dawson, who is also gay, and a beagle named Clover. He is a fan of indie pop music, and he aspires to attend the creative writing program at Emory College of Arts and Sciences. But when he's assigned to write a personal essay about who he is, Remy isn't sure what that means. While Remy dreads the Essay of Doom, he gains a new love interest, Ian Park, a Korean American 1980s pop music aficionado, and is sought after by Free Williams, a mysterious woman who has a surprising connection to his emotional journey. Winters has crafted a thought-provoking yet fun YA novel with a lot of wit and laugh-out-loud one-liners. The author pays homage to past and present LGBTQ wordsmiths Tennessee Williams and Benjamin Alire Sáenz, and has created an array of diverse characters without presenting them as preachy stereotypes and boxed-in caricatures." —Donald Peebles, School Library Journal
Interlude Press - Duet Books, 9781945053801, 304pp.
Publication Date: September 10, 2019
About the Author
Julian Winters is a best-selling and award-winning author of contemporary young adult fiction. His novels Running with Lions, How to Be Remy Cameron, and The Summer of Everything (Duet, 2018, 2019 and 2020 respectively), received accolades for their positive depictions of diverse, relatable characters. His next novel is Right Where I Left You from Viking Children's/Penguin in 2022. He was also a contributing author to Black Boy Joy (Delacorte, 2021), a NY Times #1 bestselling Middle Grade anthology.