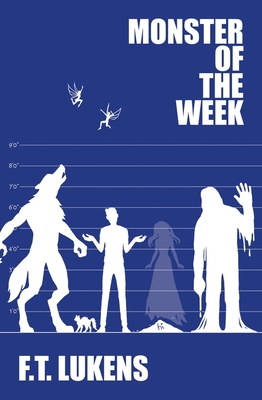 Monster of the Week (The Rules)
Paperback

* Individual store prices may vary.
Description
Spring semester of Bridger Whitt's senior year of high school is looking great. He has the perfect boyfriend, a stellar best friend, and an acceptance letter to college. He also has this incredible job as an assistant to Pavel Chudinov, an intermediary tasked with helping cryptids navigate the modern world. His days are filled with kisses, laughs, pixies, and the occasional unicorn. Life is awesome. But as graduation draws near, Bridger's perfect life begins to unravel. Uncertainties about his future surface, his estranged dad shows up out of nowhere, and, perhaps worst of all, a monster-hunting television show arrives in town to investigate the series of strange events from last fall. The show's intrepid host will not be deterred, and Bridger finds himself trapped in a game of cat and mouse that could very well put the myth world at risk. Again.
Praise For Monster of the Week (The Rules)…
"Werewolves, manticores, and mermaids? Nothing compared to a bitter blonde TV host, a bigoted dad, and the pressures of prom sex. It's enough to give a boy more buckets of anxiety than he already has. A light read with all the magic and monsters." —Kirkus
"VERDICT: This book and its predecessor are must-reads for teens who enjoy YA fiction that explores deep themes within a fun, supernatural adventure."—Linsey Milillo, School Library Journal
Duet Books, 9781945053825, 304pp.
Publication Date: October 15, 2019
About the Author
F.T. Lukens is an award-winning author of young adult fiction who holds degrees in Psychology and English Literature. A cryptid enthusiast, F.T. loves folklore and myths—specifically the weird and wonderful creatures of North America. She also enjoys sci-fi and fantasy television shows, superhero movies, and writing. Her novel, The Rules and Regulations for Mediating Myths & Magic, won several awards including the 2017 Foreword INDIES Gold Award for Young Adult Fiction and the 2017 IPBA Benjamin Franklin Gold Award for Best Teen Fiction.