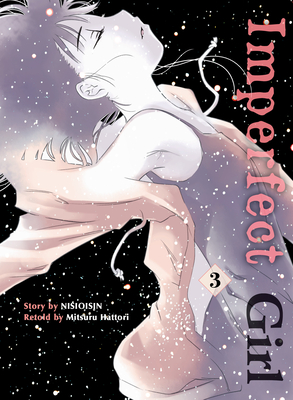 Imperfect Girl, 3
Paperback

* Individual store prices may vary.
Description
Legendary novelist NISIOISIN partners up with Mitsuru Hattori (SANKAREA) in this three volume graphic novel adaptation of one of his more recent mystery novels. An aspiring novelist witnesses a tragic death, but that is only the beginning of what will become a string of tramatic events involving a lonely elementary school girl.
The mystery unviels in the third and final chapter of the series.

A young author is being held hostage in the home of a grammar school girl. Held there by knife-point, and partially by his own curiousity, the author hopes to uncover the mysteries behind the child's torment. He know she lives alone in this huge home. But where are her parents? And what was her life like before the accident and this "kidnapping"?
Vertical Comics, 9781945054624, 192pp.
Publication Date: April 17, 2018
About the Author
There are few authors in Japan who have reached the heights of success as NISIOISIN. Born in 1981, NISIOISIN left of Ritsumeikan University in Kyoto, to pursue a career in story-telling. Initially he had ambitions to be a comic artist, but when he realized his art was not up to snuff, he began to focus on his writing. He would eventually win the 23rd Mephisto Prize, for Kubikiri Cycle (Del Rey), acknowledging his talents as a mystery writer, at the age of 20. Since his debut in 2002 he has penned more than 50 novels and a number of comics.

Nishio's works often cover themes of youth, but are framed in genres that are familiar to the masses. His works tend to mix mystery with comedy and touches or romance and/or the supernatural. He is a modern author in every sense, sometimes even experiementing with the Japanese language itself. Many of his works have been adapted into animated television series and films. His best known works are the Monogatari series and Katanagatari.