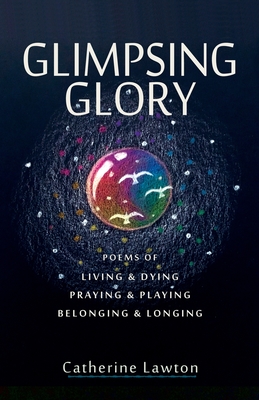 Glimpsing Glory
Poems of Living & Dying, Praying & Playing, Belonging & Longing
Paperback

* Individual store prices may vary.
Description
Lawton's poetry evokes, provokes, and soaks the reader in both the earthy and the transcendent. Enter these poetic pages and let yourself feel that you are:
musing in an old-growth Redwood forest.
exploring an Island off the coast of Maine.
finding hope in a wildlife-welcoming garden.
awe-struck in a Rocky Mountain meadow.
amazed by stars singing in the night sky
delighting in the return of spring birds
attending births and deaths of loved ones
experiencing healing of painful memories
affirming faith in the God of all creation
composed in lyrical, penetrating, sometimes-playful words, these sixty-six poems and meditative verses, varied in style, are organized into seven sections:
Relating
Communing
Trusting
Living
Dying
Praying
Word-playing
As the author states in the Introduction: "What do I mean by 'Glory'? A taste, a flicker, a glimpse, a glimmer; a flash, a whisper, a rustling breeze; a fleeting moment that lingers on taste buds, nerve ends, rides overtones of sound, tingles with goose bumps of closeness, surprise, recognition...God is for us, with us, in us, among us; but only in the glimpses--usually coming uninvited, unexpected--are we awake to God's presence and life's mysteries and surprises...We may be awakened in momentary, sensory experiences--as the Spirit hovers over our chaos--of beauty, living things, a word spoken, thin places...These moments in which we receive glimpses of glory are worth holding and treasuring. That is my purpose in writing these poems."
Cladach Publishing, 9781945099151, 112pp.
Publication Date: February 7, 2020