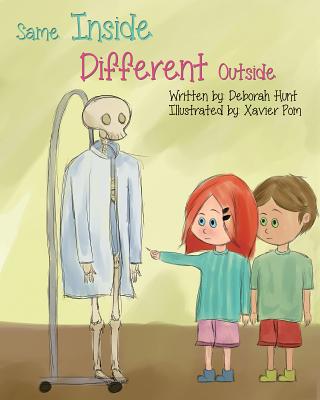 Same Inside Different Outside
Hardcover

* Individual store prices may vary.
Description
Today is a very exciting day for Emma's kindergarten class. Emma, Robert, and the rest of the students don't understand how they can all look so different on the outside, but look very similar on the inside. So Dr. Shaw is coming to visit, and she's bringing Mr. Bones, who is a real life-size skeleton. Mr. Bones is going to help Dr. Shaw teach her lesson about the human body. Dr. Shaw has also brought a cool body screening machine with her so the children can see what their insides look like. Emma is excited when Dr. Shaw shows the class some really cool pictures about the human body on a big screen, but she's also nervous because she's afraid of skeletons. And the big machine in the front of the room looks just as scary. You can learn about the human body, and Emma and her classmates when you read the "Same Inside Different Outside."
Waldorf Publishing, 9781945175701, 32pp.
Publication Date: August 1, 2020
About the Author
Deborah Hunt is a doctorally prepared nursing professor who lives in New York with her family. Her constant companion is Chewy, a Boston Terrier. Deborah has published multiple nursing articles, and two nursing textbooks. She is passionate about her nursing role, and enjoys teaching, and mentoring students. Her other passion is fiction writing, especially for children. This passion began in grade school when she was working on a fictional writing project with her best friend Regina. Working on this project awakened her creative mind, and sparked a life-long interest, and she knew that one day she would become a published writer.Throughout the years Deborah's life was very busy with her family, raising her children, her nursing career, and continuing her academic education. However, she always found time to write, completed several online writing classes, and read everything she could about writing for children. Deborah is an avid reader, and loves to take long walks on the beach. She also enjoys painting, cooking, traveling, dancing, and spending time with her family and friends.
or
Not Currently Available for Direct Purchase