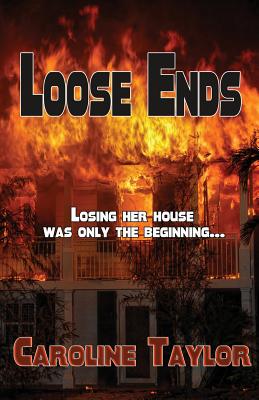 Loose Ends
Paperback

* Individual store prices may vary.
Description
LOSING HER HOUSE WAS ONLY THE BEGINNING ...
When Carson Abbott Mahoney's house is blown up, she decides it's time to disappear. She can't go to the police because she is the primary suspect in the murder of her former husband. Meanwhile, Carson's sister Cam is on the run from the West Virginia commune where she sought refuge as "Sister Leah," but instead found horrors causing her to kill the leader. Like her sister, she is also paranoid about jail, a fear stretching back to when they were imprisoned as teens for their parents' debts in a foreign country where raping female captives was considered a job perk. Cam chooses a desperate act that lands her at death's door, while Carson discovers she is one of many LOOSE ENDS to be dealt with because of her former husband's small, but significant, role in an assassination.
"Hello, Star," said Cam. She whipped off the baseball cap and Groucho glasses. "Remember me?"
"You -- I told you never to contact me. He" -- she pointed back toward the house -- "doesn't know. I've got two kids now. You have to leave."
"I need help. You're the only one I could think of who --" C1]
"That's all in the past." The woman drew Cam deeper into the shadows. "I tell you, he doesn't know. Nobody knows. I don't even use that name."
"Okay. Fine. I guess you don't remember."
"I remember everything. I was a different person then. If he finds out . . ." Her shoulders slumped. "My kids. Please. Leave me alone."
"I wish I could, only I need money that would help me get out of here."
"Are the cops after you?"
Cam shrugged. "It's a mistake. You really don't want to know the details."
"I can't help you. I won't be a part of this." Star pointed toward the back gate. "You have to go."
"Before you open Loose Ends, grip your hat firmly. Caroline Taylor expertly weaves multiple plot threads into a roller-coaster reading ride, twisty as a Slinky and unpredictable as a hurricane's path."--Karen Pullen, author of Cold Feet and Cold Heart
"There's nothing loose about Loose Ends. From the very first line, Caroline Taylor's dark, zigzagging, and suspenseful narrative tightens the knot and doesn't let up. You'll want to devour it in one sitting."--Louis Bayard, author of Mr. Timothy and The Pale Blue Eye
"This book takes the sisters Cam and Carson through one disaster after another as they jump from the frying pan into the fire and back again. Whether fleeing criminals or the police, these two never run out of ingenious, if dangerous, escape plans. Taylor's few-notches-above-suspense plot keeps raising the bar with every chapter. Will they survive?"--Judy Hogan, author of the Penny Weaver mysteries and founding editor of Carolina Wren Press
C1]kill widow in final
Moonshine Cove Publishing, LLC, 9781945181269, 246pp.
Publication Date: December 1, 2017
or
Not Currently Available for Direct Purchase