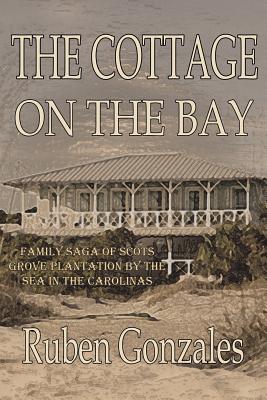 The Cottage on the Bay
Paperback

* Individual store prices may vary.
Description
MARTHA STEWART, BORN AND DIES ON THE FAMILY'S PLANTATION FARM BY THE SEA, AND DESPITE THE CHANGING SOUTH AFTER THE CIVIL WAR, FINDS FAMILY, FAITH, AND LOVE.
I found Aunt Martha out walking the shore. Old then, but able to move in long strides, her flowing gray hair trailing behind like a plume of smoke following an old steam engine, she paused in her hurry that day to stop and stare at me. She looked right through me with those pale blue eyes with no end, like I wasn't even there, like I was a mirror of her past and she just stared, as if waiting for the reflection back from the other side of remembrance.
The Cottage On the Bay begins before the Civil War and follows the life of Martha Stewart Thorpe and the parallel path of the South through the dark years of reconstruction. A young war bride and then matriarch, Martha lives through the dynamics of changing times, lives, and family on a once thriving southern plantation. Through the letters and journals of Martha and her three sisters, plantation records, family memories, neighborhood gossip, and stark history, the narrator of the saga, Violet Stewart, tells the story of Martha's life and the changing world of the Stewart Family. Martha's moving story is a reminder that there is more in life to unite us than divide us and that redemption and forgiveness take many forms.
"A saga - both intimate and timeless - that reminds the reader of our shared history and the strength of the human spirit."--Leigh Somerville, author of It All Started with a Dog."
"With a wealth of descriptive detail, Gonzales brings to life a remarkable woman and her family's place in the history of the South, expertly weaving mystery, racial conflict, a search for family, and the lingering effects of the Civil War."--Jane Tesh--author of the Madeline Maclin series, the Grace Street Mystery Series, and the novel, Butterfly Waltz.
"Cottage on the Bay by Ruben D. Gonzales returns readers to Civil War era North Carolina and provides a vivid glimpse of life on a plantation. Through the life of Martha Stewart Thorpe--the estate matriarch--Gonzales chronicles the master-slave relationship and her endeavors to right the sins of her family's past. From the moment readers meet Martha, they will be engaged in her life and eager to follow her story to its end." -- Jennifer Bean Bower, author of North Carolina Aviatrix Viola Gentry: The Flying Cashier; Winston & Salem: Tales of Murder, Mystery and May-hem and Moravians in North Carolina.
Moonshine Cove Publishing, LLC, 9781945181290, 284pp.
Publication Date: February 2, 2018
or
Not Currently Available for Direct Purchase