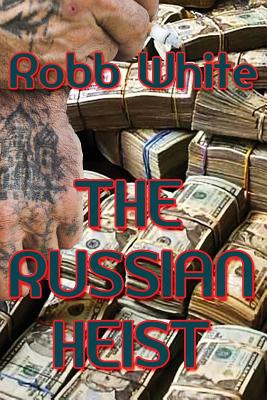 The Russian Heist (Paperback)
Moonshine Cove Publishing, LLC, 9781945181627, 370pp.
Publication Date: June 14, 2019
* Individual store prices may vary.
Description
WHEN THE PLOT TO STEAL GOVERNMENT MONEY FROM AN AIRPORT SUCCEEDS, THE AMATEUR THIEVES BECOME EXPENDABLE TO THE REAL CRIMINAL AMONG THEM, A RUSSIAN SUPERKILLER.
A Russian mobster stumbles onto a plot to rob a county airport where millions in small denominations sit shrink-wrapped on pallets waiting for military transport planes to deliver the money to the Middle East. The mastermind of the heist is the "inside man," a disgruntled armored-car guard named Smith and his slattern of a wife. Even more astounding to Dimitri Byko, a hardened criminal and psychopathic killer, is that other members of this misfit gang include the pair's son, a juvenile delinquent, and worst of all, Macbride, an obese, alcoholic professor. When this unlikely band of thieves pulls off the robbery, Byko's regard for his partners in crime is short-lived. But what he is unprepared for is the woman assigned to hunt him down. Special Agent Annie Cheng has wide experience with the ruthless mafiya of Brighton Beach.
The man standing there was big. So big and wide across the shoulders that Macbride involuntarily took a step backward, which was just as well because the man would have bowled him over if Macbride had hesitated another second.
He didn't strike Macbride as a man with a lot of friends. He smiled at each of them but it never went as far as his eyes, and that smile was the warmest thing you could say about Mister Dimitri Byko
It was past one in the morning when Smith finished describing the plan. As they were wrapping up in their coats, Macbride proposed meeting somewhere other than his house.
"Why?" asked Dimitri turning to face him.
It was the first time he had looked directly at Macbride since they almost collided at the door. He gave him the identical razor slit of smile.
"I should have mentioned this before," Macbride said as casually as he could manage without his loathing surfacing, and not sure how to begin. "One of my neighbors has decided to form a neighborhood watch. You see, I found a flyer in my mailbox--"
"We meet here," Dimitri said without looking up. He gently rapped his knuckles on the coffee table but it had force enough to move it. "If this neighbor of yours becomes a problem, I'll deal with it."
You will enjoy the hardboiled, but never dated, style of the prose."--Jochem Vandersteen, author of the Noah Milano series
"The Russian Heist solidifies White as one of the absolute best in the crime thriller gere...crackerjack dialogue, dark wit, whip-smart characters...a masterclass on how you write a crime procedural "...--Ryan Thomas, author of the Roger Huntington Saga
"Lighthearted sparring, contrasted by apprehension of the cold-hearted Dimitri's inevitable return, an unfolding collision of wills is a likely transition into a spider's web of crime and violence."--Frank Rocca, author of I'm Jack & I'm Back and I'm Jack & I Want More