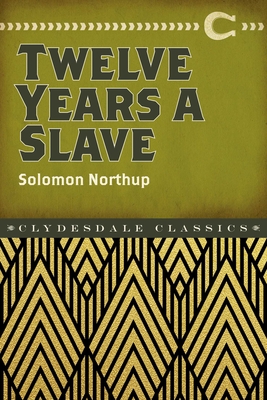 Twelve Years a Slave (Paperback)
Clydesdale, 9781945186066, 216pp.
Publication Date: May 17, 2016
Other Editions of This Title:
Paperback (3/1/2019)
Paperback (12/18/2018)
Paperback (12/2/2015)
Paperback (5/27/2015)
Paperback (10/21/2018)
Paperback (9/22/2010)
Paperback (12/1/2012)
Paperback (12/14/2014)
Paperback (4/5/2016)
Paperback (1/12/2014)
Paperback (11/28/2016)
Paperback (12/15/2013)
Paperback (1/17/2008)
Paperback (6/3/2014)
Paperback (8/4/2015)
Paperback (1/24/2019)
* Individual store prices may vary.
Description
The basis of the 2013 Academy Award–winning film 12 Years a Slave, this is the autobiography of Solomon Northup—an African American man born free in New York state who is tricked, kidnapped, taken to Washington, DC, and sold into slavery.

Solomon experiences the true horrors of the slave trade—intense cruelty, beatings, sickness, negligence, barbarism, starvation. Throughout the book's melancholic prose, Northup recounts these horrific experiences in excruciating and agonizing detail. In one of the book's passages, he states: "My sufferings I can compare to nothing else than the burning agonies of hell!" For the next twelve years, Northup kept his identity hidden only to himself and remained imprisoned in this state of bondage.

Originally published eight years before the Civil War and similar in many ways to Narrative of the Life of Frederick Douglass, this groundbreaking work gave Americans from the north razor-sharp, firsthand insight into the tragedies that were occurring in the South. Still today, Northup's story is widely studied and reprinted, giving its readers a glimpse into a painful part of our country's past.

Packaged in handsome, affordable trade editions, Clydesdale Classics is a new series of essential literary works. It features literary phenomena with influence and themes so great that, after their publication, they changed literature forever. From the musings of literary geniuses like Mark Twain in The Adventures of Huckleberry Finn to the striking personal narrative of Harriet Jacobs in Incidents in the Life of a Slave Girl, this new series is a comprehensive collection of our history through the words of the exceptional few.
About the Author
Solomon Northup was an African American abolitionist, farmer, and professional violinist. He was a free man before he was kidnapped and forced into slavery for twelve years. He is the primary author of Twelve Years a Slave, which details the horrific miscarriages of justice and oppression that he endured. After regaining his freedom and reuniting with his family, Northup became a well-respected activist and lecturer in the abolitionist movement. In the summer of 1857, after a series of lectures in Canada, he disappeared. Neither his cause of death nor his whereabouts have ever been uncovered.