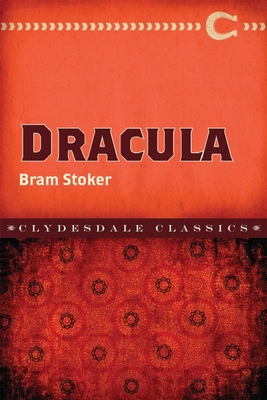 Dracula (Clydesdale Classics)
Paperback

* Individual store prices may vary.
Other Editions of This Title:
Digital Audiobook (3/2/2015)
Digital Audiobook (6/26/2017)
Digital Audiobook (10/14/2008)
Digital Audiobook (11/27/2017)
Digital Audiobook (6/1/2017)
Digital Audiobook (4/30/2014)
Digital Audiobook (7/31/2009)
Digital Audiobook (1/1/2008)
Paperback (4/4/2016)
Paperback (4/7/2020)
Description
Packaged in handsome, affordable trade editions, Clydesdale Classics is a new series of essential works. From the musings of literary geniuses such as Nathaniel Hawthorne in The Scarlet Letter to the striking personal narrative of Harriet Jacobs in Incidents in the Life of a Slave Girl, this new series is a comprehensive collection of our literary history through the words of the exceptional few.

An enduring work of horror, Stoker's Dracula still provides chills more than one hundred years after its original publication and seemingly endless film adaptations.

Written in series of letters and journal entries, Dracula tells the story of the legendary vampire from the perspective of a young British solicitor Jonathan Harker, as well as others. Harker arrives at Dracula's castle believing he is there for a business transaction, only to realize his host intends to keep him prisoner. Harker barely escapes the Count's castle, but must get back to England. Little does Harker know, Dracula has decided to leave Transylvania for England, where he intends to replenish his previous strength and spread his vampirism among those that Harker holds most dear.

Stoker's Dracula serves as the framework for many subsequent vampire novels. It is here that we discover the vampire's aversion to garlic, sleeping in the ground, and the enchanting influence over others that have become a staple in the genre. Experience the unabridged classic in this edition and be mesmerized by the hold that it will have over you.
Clydesdale, 9781945186356, 384pp.
Publication Date: October 3, 2017
About the Author
Bram Stoker was an Irish author born in 1847. Stoker wrote several pieces throughout his career including short stories and the novel The Duties of Clerks of Petty Sessions in Ireland, however his greatest success came in the form of the gothic horror novel Dracula, published in 1897. The novel, which was originally looked at as simply a work of horror fiction, has become an enduring part of our culture.
or
Not Currently Available for Direct Purchase