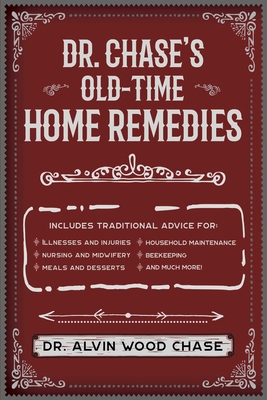 Dr. Chase's Old-Time Home Remedies (Paperback)
Includes Traditional Advice for Illnesses and Injuries, Nursing and Midwifery, Meals and Desserts, Household Maintenance, Beekeeping, and Much More!
Clydesdale, 9781945186608, 936pp.
Publication Date: February 11, 2020
* Individual store prices may vary.
Description
A Classic Collection of Original Medical Remedies and Household Recipes
Written by traveling physician Dr. Alvin Wood Chase, this reprint of Dr. Chase's
Recipe Book and Household Physician, on Practical Knowledge for the People
, features a well of practical information on dozens of topics and subjects, including:
Home remedies for illnesses and injuries 
Nursing and midwifery
Food
Household maintenance
Beekeeping
Medical terminology and diseases
And many more!
The book provides an in-depth look into more than eight hundred wildly varied and fascinating "recipes" which helped, and can still help, people with everyday health concerns and various household chores. It also gives readers a unique look at what life was like more than 130 years ago.
About the Author
Alvin Wood Chase was a travelling physician, salesman, author and self-made man. He dispensed remedies all over America during the late nineteenth century, collecting recipes and domestic tips from the people he met along the way. His self-published books became celebrated US bestsellers and were the household bibles of their day.