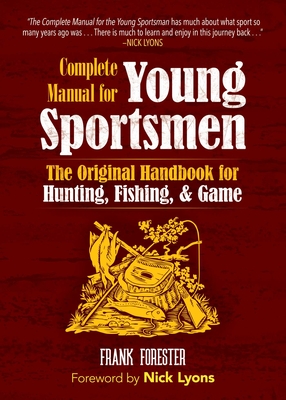 The Complete Manual for Young Sportsmen (Paperback)
The Original Handbook for Hunting, Fishing, and Game
Clydesdale, 9781945186714, 480pp.
Publication Date: June 11, 2019
* Individual store prices may vary.
Description
All the essentials for the young outdoorsman

Originally published in 1865, The Complete Manual for Young Sportsmen is every young man (or young woman's) guide to everything outdoors. This new edition of the classic handbook provides instructions, tips, and facts about everything from hunting to fishing to animal's habits. With new updated illustrations and step-by-step instructions, every person young and old can learn to be an outdoorsman.

Learn how to handle and shoot a gun or rifle with ease so that you hit every shot you make. Learn the best ways to hunt deer, foul, and multiple other varieties of animals. The secrets of animal's habits and habitats are now yours to utilize. The Complete Manual for Young Sportsmen will even teach you the ways of hunting with dogs!

In addition, not only will you learn about hunting, but also about fishing in rivers, lakes, even sea fishing. Learn the best ways to handle a fishing rod and never lose your catch again. With this updated version of The Complete Manual for Young Sportsmen, you can impress friends and family with your outdoor skills in no time.
About the Author
Frank Forester was the pen name for William Henry Herbert, an accomplished author from the early to mid-19th century. Though he started his career as a professor of Latin and Greek, Forester quit to become an author of numerous books as well as a contributor to early US sporting magazines, Spirit of the Times and American Turf. Some of his writings include the historical romance Cromwell (1838) and Frank Forester's Field of Sports of the United States, and British Provinces, of North America (1849). Forester passed away in New York City in 1858.

Nick Lyons is the editor of Hemingway on Fishing, The Best Fishing Stories Ever Told, The Quotable Fisherman, and The Little Red Book of Dad's Wisdom. He has written over twenty books, mainly on fishing, in addition to hundreds of articles on the subject, which have appeared in such magazines as Harper's, Outside, Field & Stream, Outdoor Life, and Fly Fisherman. He splits his time between New York City and Woodstock, New York.