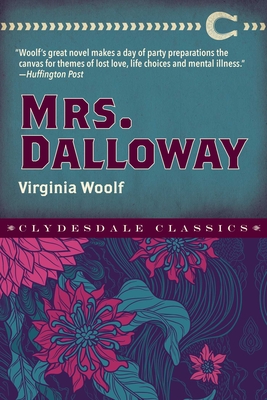 Mrs. Dalloway (Clydesdale Classics)
Paperback

* Individual store prices may vary.
Other Editions of This Title:
Digital Audiobook (4/30/2011)
Hardcover (10/26/2021)
Paperback (4/12/2020)
Paperback (9/24/1990)
Paperback (8/23/2021)
Paperback (7/29/2020)
Hardcover (1/11/2022)
Paperback (1/12/2021)
Hardcover (1/27/2021)
Paperback (4/22/2021)
Paperback (8/3/2020)
Hardcover (12/22/2014)
Description
"A revolutionary novel of profound scope and depth, about a day in the life of a woman who runs a few errands, sees an old suitor and gives a dull party. It's a masterpiece created out of the humblest narrative materials. . . . Woolf was one of the first writers to understand there are no insignificant lives, only inadequate ways of looking at them." —The New York Times

The story follows one day of upper-class housewife Clarissa Dalloway's life as she plans and hosts a dinner party at her house. Along the way she meets with people from both her past—a former suitor whose proposal she rejected and whom she no longer gets along with—and her present—her distant husband, Richard; her daughter, Elizabeth; and her daughter's teacher, Miss Kilman, whom she despises (and who feels the same towards Clarissa).

Proving herself a master and innovator of the parallel narrative, Woolf separately introduces reader to another storyline about a young veteran who was once a poet and a romantic before experiencing the horrors of war and becoming suicidal. He is diagnosed with mental illness and is being forced to separate from his wife and go to a mental asylum.

Written by one of the most prolific female authors of the twentieth century, this stunning novel is often considered Woolf's magnum opus. Enjoy this beautifully rejuvenated edition of Virginia Woolf's Mrs. Dalloway.
 
Clydesdale, 9781945186783, 168pp.
Publication Date: February 22, 2022
About the Author
Virginia Woolf was one of the most prolific female authors of the twentieth century, writing more fiction works than James Joyce and William Faulkner combined. She was well-known for her stream-of-consciousness writing, and her essays and stories often focused on popular cultural topics and ideas, such as discrimination, war, social class, and politics. Some of her most popular works were her novels To the Lighthouse (1927) and Mrs. Dalloway (1925).