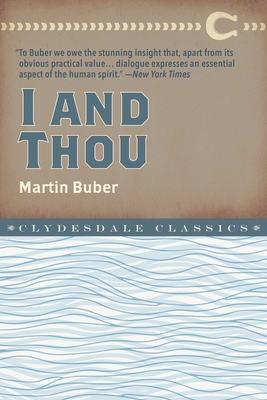 I and Thou (Clydesdale Classics) (Paperback)
Clydesdale, 9781945186882, 136pp.
Publication Date: January 7, 2020
Other Editions of This Title:
Paperback (5/23/2019)
Paperback (2/1/1971)
Paperback (10/26/2010)
Hardcover (6/13/2000)
Compact Disc (4/1/2013)
MP3 CD (10/1/2011)
Compact Disc (10/1/2011)
Paperback (10/24/2013)
Paperback (11/1/2006)
Paperback (7/7/2013)
* Individual store prices may vary.
Description
Originally published in German in 1923, I and Thou was an influential work that explained the meaning behind human existence. Buber explains that existence can be addressed in two ways: First as "I" towards "It," meaning our interaction with objects in our world that we use or experience. The second as "I" towards a "Thou," meaning our search for relationships without boundaries. This second subject is one of the main themes behind Buber's work as a whole; humans find their meaning for life in relationships with others. In conclusion, Buber contends that the relationships we form throughout our lives ultimately bring us closer to fulfilling a relationship with God, the "Eternal Thou."

These conclusions are drawn in three sections: his two modes of engaging the world, conclusions about man's psychology, and solutions to man's woes. Written in a series of both long and short aphorisms, the book is not formatted as an argument, but more of related reflections, realizations, and observations.

In this new edition of Martin Buber's translated I and Thou, discover the meaning behind human existence and see if you can find meaning through Buber's reflections of the world and its residents.
About the Author
Martin Buber was born in Austria in 1878. Though Jewish, he quit participating in the Jewish religious practices at a young age, opting to believe in a less legalistic modernization of the religion and culture. Buber founded the monthly Der Jude ("The Jew") in 1916 and became an educator, eventually becoming a director for Jewish adult education, despite living in Nazi Germany. In 1938, the Nazi secret police forbade his teachings and Buber moved to Jerusalem where he continued his career in education and fought for peace between the Israeli and Palestinian people until his death in 1965.