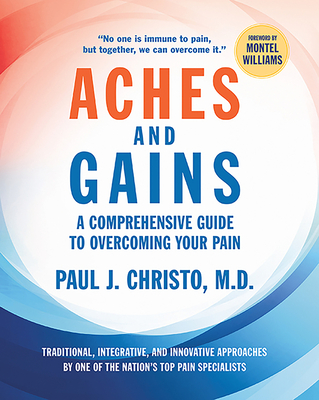 Aches and Gains (Paperback)
A Comprehensive Guide to Overcoming Your Pain
Bull Publishing Company, 9781945188091, 400pp.
Publication Date: September 5, 2017
* Individual store prices may vary.
Description
Pain is often treatable but doctors, medical professionals, and patients don't understand the intricacies of chronic pain. Millions who suffer from pain become hopeless. With Aches and Gains, Dr. Paul Christo, a Johns Hopkins physician and leading pain specialist sheds new light on what it means to live with and overcome chronic pain. Dr. Christo shares celebrity interviews, including Naomi Judd, Lisa Swayze, Montel Williams, Ally Hilfiger, and Clay Walker, from his Sirius XM radio show Aches and Gains®, and stories from patients who have found a way to overcome the pain that once controlled their lives. Offering traditional, integrative, and innovative methods of easing pain, the book is a life-changing tool for anyone associated with pain including pain sufferers themselves, doctors, nurses, medical professionals, and caregivers.

Features a foreword by renowned talk show host Montel Williams.
About the Author
Dr. Paul Christo is one of America's leading pain experts and hosts Aches and Gains®, the first national radio talk show dedicated to overcoming pain, stress reduction, and healthy living. Listed as a Top Doctor and in the top 1% for Pain Management by U.S. News & World Report, Dr. Christo is widely consulted by the media for his expertise in pain diagnosis and treatment.
Praise For Aches and Gains: A Comprehensive Guide to Overcoming Your Pain…
"When you're in pain and you are desperate for an expert, Dr. Christo is just that. He's also filled with compassion and a wonderful bedside manner. Pain is inevitable but Dr. Christo helps relieve your suffering." —Naomi Judd, singer, author, and humanitarian
"There's no other book like it—eye-opening, motivational, and powerful. Dr. Paul Christo responds to this tremendous problem with new insights and reliable options. His care and good will for all of us in pain shines brightly, and his desire to bring forth the best and highest in everybody permeates his work." —Clay Walker, multi-platinum country music artist
"Aches and Gains offers far-reaching therapeutic options for pain relief. Dr. Christo, and his interesting patients and prominent personalities from all walks of life, carefully guide anybody dealing with this multidimensional disease through its complexities in a remarkably understandable and compelling manner. Pain can strike us at any time in life. We are now fortunate to have a book that both serves as a beacon of hope and as a source of many evidence- based and emerging treatments that can really help." —Rollin M. Gallagher, MD, MPH, editor-in-chief, Pain Medicine; past president, American Academy of Pain Medicin
"This book is a terrific resource that everybody should pay attention to. It's cutting-edge, easy to read, and inspirational. Dr. Paul Christo gives you the tools to move beyond your pain and into the realm of healthy living. Believe me, he is talking to YOU! I am honored to be a part of this movement!" —Gunnar Peterson, Beverly Hills–based personal trainer
"Dr. Christo has created a brilliant, comprehensive guide into the world of pain packed with research-based information while also dispensing his wise, compassionate guidance. Every person will need to navigate the realm of pain in some capacity at sometime in their lives. This stellar work gives them an invaluable roadmap." —Kathleen Hall, Ph.D., CEO, The Stress Institute
"If you suffer from pain, know somebody who does, or want to limit your chances of developing it, Aches and Gains is a must read. Dr. Christo covers this universal problem with great expertise and compassion." —Coach Lou Holtz, 2008 College Football Hall of Fame Coach, retired ESPN analyst, motivational speaker, New York Times best-selling author
"Dr. Paul Christo's insightful book Aches and Gains is a breath of fresh air, particularly at a time when we, as a nation, are experiencing an opioid-addiction catastrophe. This book offers true healing and 'another therapeutic option' without the dangerous effects of harsh drugs. Human beings will do anything to take away pain. It is refreshing to read a book that offers another path. If you are experiencing pain, I highly suggest you read Dr. Christo's book before you consider any treatments." —Suzanne Somers, actress and best-selling author
"Aches and Gains is a great resource for patients suffering with chronic pain. Dr. Christo shares his clinical and scientific expertise in a way that is engaging, informative, and empathetic, and doesn't focus only on pills or surgery. The stories of famous individuals with pain are unique and informative, and demonstrate that pain can impact anyone. I think anyone reading this book will have a greater understanding of the causes of pain and strategies for managing it—giving them the tools to ultimately get back their lives." —Roger Chou, MD, professor of medicine, division of General Internal Medicine and Geriatrics, Oregon Health & Science University
"Dr. Christo's Aches and Gains provides an incredibly comprehensive overview of the many forms that pain can take, how it impacts the lives of its sufferers, and, most inspiringly, the multiple treatment options that are available for the tens of millions who suffer from chronic pain. Importantly, Dr. Christo strikes an impressive balance between conveying information that will be helpful to people experiencing pain while staying true to the current state of pain science. He artfully intertwines stories from real people with evidence-based information to both inspire and educate the reader. This book will help arm people in pain with knowledge and hope, empowering them to take control over their pain and their lives." —Roger B. Fillingim, PhD, distinguished professor and director of the University of Florida's Pain Research & Intervention Center of Excellence
"Dr. Christo gives a truly unique and balanced overview of all potentially valid possibilities for those who suffer and have the desire to take back their function and quality of life. I would recommend this book for anyone who suffers from pain, who has loved ones in this condition, or would like to know things we can do to help this terrible problem for our society." —Timothy R. Deer, MD, president, International Neuromodulation Society