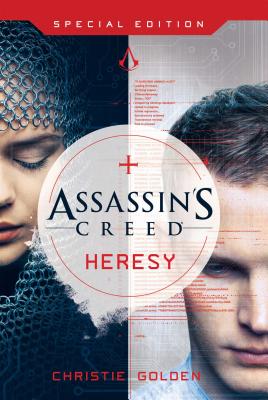 Assassin's Creed
Heresy - Special Edition (Assassin's Creed)
Hardcover

* Individual store prices may vary.
Other Editions of This Title:
Paperback (11/15/2016)
Description
Winner of a Scribe Award 2017. From New York Times bestselling author Christie Golden comes an original story set in the universe of Assassin's Creed. Reliving the memories of his ancestor who fought beside Joan of Arc, high-ranking Templar Simon Hathaway slowly uncovers secrets of the past that could dangerously impact his present…and that of the entire Templar order.

This premium hardcover edition features exclusive art sketches and behind the scenes interviews, as well as a special code to unlock Assassin's Creed rewards through Ubisoft Club's loyalty program.

An endless conflict. An old wrong. A new revelation.

Simon Hathaway, member of the Templar Inner Sanctum, brings a cool head and detached manner to his new role as Head of Abstergo Industry's Historical Research Division.

But Simon also has an insatiable curiosity, and is fascinated by the thought of experiencing history first-hand through his ancestor--Gabriel Laxart, who fought alongside the legendary Joan of Arc.

When he enters the newly-designed Animus for its initial project, Simon finds himself unprepared for what he discovers: How deep the conflict between the Templars and the Assassins goes. What Gabriel will do for the woman he both loves and reveres.

And the most dangerous truth of all: Who is the heretic…and who is the true believer.
Praise For Assassin's Creed: Heresy - Special Edition (Assassin's Creed)…
"Golden's new book is such a treat."
— The Retroist

"absolutely thrilling and engaging novel"
— Morrisareads

"With its blend of science-fiction, action and historical element, this will intrigue many."
— Parkersburg News & Sentinel

There is plenty of intrigue, lore, and drama that made for an exciting read.
— SciFiChick

Gamers often enjoy the Assassin's Creed series' action-packed gameplay but spend little time exploring the lore behind it. New York Times bestselling author Christie Golden has created an incentive to change that; her new novel, Assassin's Creed Heresy, recounts a thrilling, adventurous story that uniquely expands on the franchise's universe and will leave both longtime fans and newcomers wanting more.
— The Missourian
Ubisoft Publishing, 9781945210099, 288pp.
Publication Date: November 15, 2016
About the Author
Award-winning and eight-time New York Times bestselling author Christie Golden has written nearly fifty novels and several short stories in the fields of science fiction, fantasy and horror. Among her many projects are over a dozen Star Trek novels, a similar number for gaming giant Blizzard's World of Warcraft and StarCraft novels, three books in the nine-book Star Wars series, Fate of the Jedi, and the novelization of Star Wars: The Clone Wars unaired episodes, Dark Disciple, which many reviews and lists have cited as the best of the new canon novels. Golden lives in Virginia. She welcomes visitors to her website: ChristieGolden.com
or
Not Currently Available for Direct Purchase