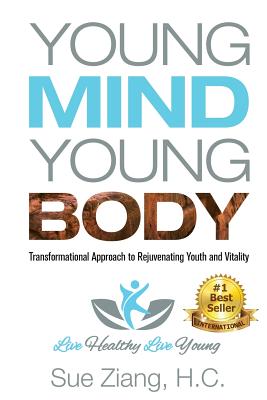 Young Mind Young Body
Transformational Approach to Rejuvenating Youth and Vitality
Paperback

* Individual store prices may vary.
Description
Imagine yourself feeling, looking, and being 10 (maybe 15) years younger The new book Young Mind Young Body by Sue Ziang tells you how. You have been feeling tired and old for the longest time. How you wish you could wave a magic wand and have the robust health and youthful vitality to live the life you know you should be living Yes, you can There is light at the end of the tunnel, and the key is in your hands. By following the common-sense approach to supporting mindset, lifestyle, and food choices that Sue Ziang details in Young Mind Young Body, you can embrace and savor life with ease and grace while potentially enjoying the following benefits as by-products of a happy and fulfilled life - body, mind, heart, and soul. You will start: -Thinking, feeling, looking, and being years younger than your actual chronological age. -Feeling more resilient, more energetic, more vibrant, and able to do the things you have always dreamed of doing that you are not doing due to lack of energy. -Enjoying robust, vital health due to increased immunity. -Reclaiming your best body and being able to keep it without applying will power to lose weight. -Flourishing in all areas of life including relationships, spirituality, and career with a sense of well-being and abundance. -Discovering a heightened joy of being in bliss. Ziang's inspiring, soul-grabbing, simple, and straightforward signature writing style might just ignite the fire lying dormant within you, making you want to dance, sing, and expand. Catch the fire Allow your inner joy to come through You are so worth it.
Sue Vanags, 9781945252068, 362pp.
Publication Date: June 30, 2016