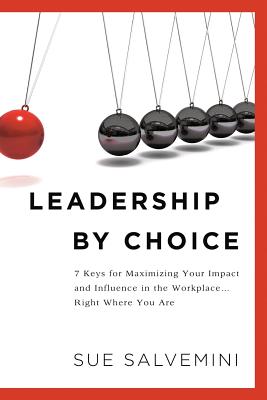 Leadership By Choice
7 Keys for Maximizing Your Impact and Influence in the Workplace... Right Where You Are
Paperback

* Individual store prices may vary.
Description
Lots of books about developing leadership skills assume that the goal of the reader is to move on from their current position and into one with more supervisory responsibilities. In Leadership By Choice, author Sue Salvemini encourages you to start putting her suggestions to work right now, in whatever capacity you currently work. You can practice the seven key strategies she offers today, right where you are. Salvemini gives you tools to find what makes you tick and be all you are designed to be in order to have impact and influence as a leader in the workplace and beyond - and to love your job The strategies include embracing your values, your vision, and your energy; tackling the roadblocks on your journey; developing listening and other skills; and helping your team members develop their own careers. She teaches Bruce Schneider's "7 Levels of Energy" and the impacts that catabolic and anabolic attitudes have in the workplace, discusses the principles of "Energy Leadership," and provides a comprehensive guide to overcoming ten key barriers to achieving goals, as well as lots of ideas for staying upbeat and passing your positive attitudinal energy on to others. A complimentary Reflection Journal is provided that is central to putting the strategies to work. The skills Salvemini teaches in Leadership By Choice can help you improve your outlook and productivity at work and become an effective leader whether you are already the CEO or just starting out in your career.
Focal Pointe Consulting Group, Inc, 9781945252389, 238pp.
Publication Date: August 9, 2018