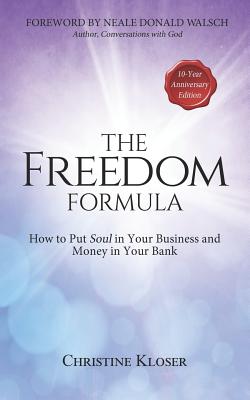 The Freedom Formula
How to Put Soul in Your Business and Money in Your Bank
Paperback

* Individual store prices may vary.
Description
Entrepreneurs Want Freedom...Freedom to make a difference in the world; freedom to make as much money as you desire; freedom to do what you want, when you want; freedom to be... YOU
But, on your quest for freedom, it's pretty likely that no one told you how to realize this freedom you're looking for, until now. This book reveals exactly how to have it all by putting SOUL in your business... and MONEY in your bank.
Inside The Freedom Formula you'll discover how to:
-Build a solid business based on the powerful combination of spiritual principles and proven business strategies-Receive more of everything you desire
-Banish procrastination forever and realize your drams
-Trust in the Divine Plan for your business... and your LIFE
-Make "competition" evaporate the natural way, simply by being more of who YOU are
This book holds the definitive answer to the question "Can I really have it all?" Yes, you can And it's simpler than you think.
"In this book, Christine Kloser beautifully explains how to integrate your spiritual nature with proven business principles to become a successful, conscious entrepreneur."
Neale Donald Walsch
Author, Conversations with God
"The Freedom Formula reveals a massively important message.... that bringing your spiritual beliefs into business is the only true path to success. This book provides an authentic and powerful approach for combining passion and profit."
Arielle FordAuthor, The Soulmate Secret
"Finally, a book for conscious entrepreneurs that explains the value of integrating your soul into your business. Christine makes it clear why advancing consciousness in business is the key to advancing consciousness worldwide - and she makes it appealing, practical and possible."
Judith Sherven, PhD and Jim Sniechowski, PhD Co-authors, Be Loved for Who You Really Are
"The Freedom Formula is the key to understanding the power of choice, and the process of implementing it with zeal, with passion, with heart. A must read, a great idea, a book on fire."
Michael E. GerberAuthor, The E-Myth
"What a beautiful book Christine Kloser has written the heart- and soul-centered business book the world has been waiting for. With clear examples and step-by-step instructions, she shows you just how to live your life's purpose and make a profit, too. Well done "
Chellie CampbellAuthor, The Wealthy Spirit
"If you're ready to make the journey of conscious entrepreneurship more smooth, effortless, easy and enjoyable, read The Freedom Formula and get started today."
Mark Victor HansenCo-creator, Chicken Soup for the Soul (R)
"Christine Kloser's book The Freedom Formula is a bold step that bridges the importance of "Soul" in your business. She has woven the power of being conscious on a spiritual level with the importance of understanding how a business really works. This is a terrific piece of work for anyone who wants to operate a business on a higher spiritual level."
Joe Nunziata Author, Spiritual Selling
"Every now and then a book comes along with just the right message at just the right time. The Freedom Formula is one of these exceptional books."
Loral LangemeierAuthor, The Millionaire Maker
"Christine Kloser combines the heart and soul of Mother Teresa with the business savvy of successful CEOs without missing a beat. The Freedom Formula gives entrepreneurs both a spiritual road and a practical pathway to build lasting success."
Susan HarrowAuthor, Sell Yourself Without Selling Your Soul
Christine Kloser Companies LLC, 9781945252518, 194pp.
Publication Date: October 24, 2018