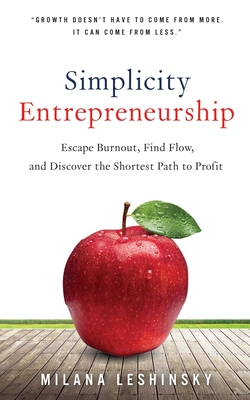 Simplicity Entrepreneurship
Escape Burnout, Find Flow, and Discover the Shortest Path to Profit
Paperback

* Individual store prices may vary.
Description
Relax . . . Take a Breath . . . You're in the "Bye-Bye Overwhelm" Zone

If growing your business leaves you feeling overwhelmed or frustrated, or if you feel like you're working too hard and not getting the results you want, this book is for you.

You'll learn the 9 biggest traps most entrepreneurs fall into that cause a lot of self-doubt, confusion, and frustration, and ultimately keep them from growing their business.

You will also discover the #1 secret all highly successful business owners use that allows them to grow with more confidence and ease.

Finally, you'll discover that growing a business doesn't have to come from doing MORE, and instead can come from doing LESS, and how to know exactly what to focus on in your business to scale without burnout.

Read this book if:

* Your business isn't working as well as you'd like

* You are not making the money you know you could be making

* Your marketing isn't working or your products aren't selling

* You are constantly getting burned out

* You are craving something that seems to be missing in your business but can't put your finger on it...

Capucia Publishing, 9781945252594, 64pp.
Publication Date: March 11, 2019