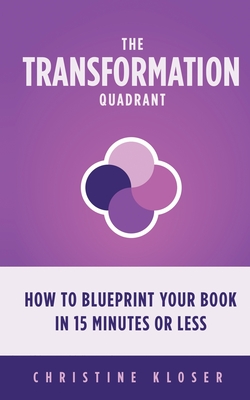 The Transformation Quadrant
How to Blueprint Your Book in 15 Minutes or Less
Paperback

* Individual store prices may vary.
Description
Groundbreaking Tool "Blueprints" Your Book in 15 Minutes or Less
The Transformation Quadrant was written for leaders, business owners, visionaries, coaches, healers, practitioners and messengers around the world who want to write their book and make a difference in the lives of others.
Every aspiring author dreams of the day their book will be written, published and impacting peoples' lives. Yet sadly, most authors who dream of that day never get there. Things like confusion, doubt, lack of clarity, and feeling overwhelmed stop them in their tracks.
Transformational author coach, award-winning book publisher, and multiple best-selling author Christine Kloser has guided thousands of authors to write books that have had a positive impact on millions of lives. She's been featured in the Los Angeles Times, Entrepreneur Magazine, Forbes.com and Huffington Post.
The Transformation Quadrant is for you if you are planning to write a transformational book in one of these popular genres:
Self-help, personal growth, grief recovery
Business, leadership, entrepreneurship, finance, sales & marketing
Retirement planning, career development
Spirituality
Memoir or biography
Relationships, parenting
Education
Health, weight loss wellness, pet care
How-to do anything
Humor, Sports, and many more non-fiction topics
Authors who use the tool you're about to learn in The Transformation Quadrant sail through writing their books. This simple, powerful, life-changing tool is essential in building a solid foundation that gives you the clarity, direction, energy and motivation to write until the very last word of your book is written.
Inside you'll discover:
Tools to overcome writer's block, self-doubt, excuses and time constraints
A simple 15-minute "blueprint" that beats nearly every writing system, method and strategy out there and gives you hyper-clarity about how to write your book effortlessly, profitably and with soul
How to turn your book into a "viral platform" that launches or grows your business to six figures or more, whether you're a coach, consultant, expert, visionary, messenger or entrepreneur
The Transformation Quadrant is a system that delivers proven results for you, your life, your business, and the world.
Order your Kindle or paperback copy today (it also comes with a free Transformational Quadrant Workbook to help you keep track of all the insights you're about to receive for your new book). You can begin reading the first chapter by clicking on the 'Look Inside' feature above.

Capucia Publishing, 9781945252624, 70pp.
Publication Date: September 3, 2019