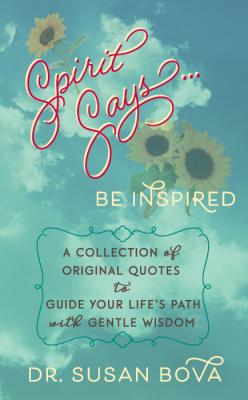 Spirit Says ... Be Inspired (Paperback)
A Collection of Original Quotes to Guide Your Life's Path with Gentle Wisdom
Martin Avenue Press, 9781945262005, 142pp.
Publication Date: May 30, 2016
* Individual store prices may vary.
Description
"It is not necessary to be fearless. We all have fear. It is more important to recognize that fear exists and then move forward anyway."
As a result of two near-death experiences, Dr. Susan Bova was granted the gift of open access to the Spirit world and now acts as a Spirit Messenger, continually receiving messages directly from Source. In this concise, uplifting book, Susan shares gentle words of wisdom--such as the quote above--from the higher realms. Each full-color, artistically designed passage holds a unique message for the person reading it, as well as different energy each time it is read. Choose a quote daily and let Spirit move you to live an inspired life.
Praise For Spirit Says ... Be Inspired: A Collection of Original Quotes to Guide Your Life's Path with Gentle Wisdom…
"Susan offers us the opportunity to leap into the void of our very own understanding by placing messages from Spirit before us. This insightful and inspirational book is one to keep near and dear to you for guidance, especially when seeking an uplift in your day. It's a magical moment when the heart opens and you're reminded of who you truly are. This is the precious gift that Susan has given us."

—Carol Fitzpatrick, co-founder, Center for Planetary Awakening, author of Fear Not My Child and A Call to Remember: Follow Your Heart, Change the World