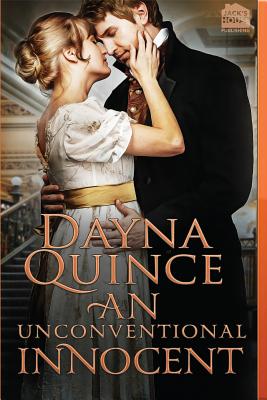 An Unconventional Innocent
Paperback

* Individual store prices may vary.
Description
The heart may choose the road less traveled...
Pressured into an unwanted marriage, Dorothea Manton escapes to her friend Lucy's cottage, hoping to hide out until her twenty-first birthday when she will be able to choose her own fate. But trouble still finds her in the form of an injured soldier who collapses near the cottage. Free from the tethers of her conniving family, Thea befriends the major. Though friendship isn't the only thing on her mind. Handsome and kind, Major Henry Felton treats her like a grown woman...not a sheltered miss.
With little money and no place to live, Felton would most likely be dead had this brave and intelligent young woman not rescued him. But her identity remains a mystery. She'll give him only her first name and nothing more. What could she be hiding, and who could she be hiding from? The closer they grow in their quiet little cottage, the more rabid his curiosity becomes...and the deeper he falls for her.
Before Thea and Felton can explore their newfound feelings, a rival for Thea's affections intervenes and declares himself Thea's protector. To Felton, he reveals things about Thea she should have told him herself. Jealousy and honor clash, and Thea's protector has an agenda of his own. Meanwhile, Thea's erstwhile fianc is on the hunt. With time running out and two men vying for her heart, Thea knows she must choose between a wounded soldier and a wealthy lord before her unwanted fianc claims her.
Jack's House Publishing LLC, 9781945340338, 200pp.
Publication Date: October 2, 2018
or
Not Currently Available for Direct Purchase