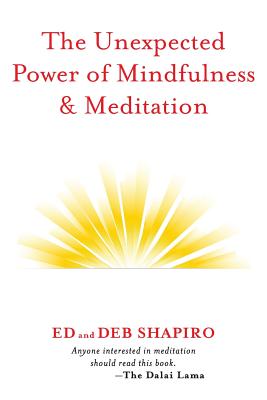 The Unexpected Power of Mindfulness & Meditation (Paperback)
Waterfront Digital Press, 9781945390784, 220pp.
Publication Date: March 28, 2017
Other Editions of This Title:
Paperback (4/17/2019)
* Individual store prices may vary.
Description
About The Unexpected Power As an activist in a Chinese jail, Kiri Westby used meditation to maintain her peace amidst the hardship. Seane Corn used yoga and mindfulness to work with child prostitutes in LA. Play therapist Megan Larson says meditation has changed everything, including her work with children. People everywhere are now realizing the profound benefits of mindfulness and meditation to reduce deep-rooted stress, calm the mind, become kinder, and find true happiness. About the Authors Award-winning authors, Ed & Deb Shapiro, with some of today's most notable voices, explore how being aware can resolve issues such as anger and fear, relationship breakdown, forgiveness, parenthood, and a lack of self-esteem. Join such luminaries as Jon Kabat-Zinn, Marianne Williamson, Ram Dass, Jack Kornfield, Oscar award-winning actresses Jane Fonda and Ellen Burstyn, Professors Robert Thurman and Richard Davidson, and others. Enlightening and inspiring, The Unexpected Power of Mindfulness & Meditation is essential reading. Learn these practices and transform your life at the same time. THE UNEXPECTED POWER OF MINDFULNESS & MEDITATION ED and DEB SHAPIRO
About the Author
Bestselling authors Ed and Deb, winners of the 2010 Nautilus Gold Book Award, are columnists for HuffingtonPost.com, Awaken.com, Care2.com, and others. They are the authors of 20 books on mindfulness, meditation, personal development, and the bodymind relationship, published in many languages. The Shapiro's lead mindfulness and meditation retreats and personal development workshops worldwide, and are corporate consultants and personal coaches working with CEO's and senior management. They have been teaching together for 30 years. Ed was a New York City dance champion born in the Bronx, who became a yogi, and skier. Deb is from the English countryside, the granddaughter of Sir Winston Churchill's speechwriter and editor. While Ed trained in New York with Swami Satchidananda, and later in India where he became Swami Brahmananda, Deb was doing Zen retreats with Jiyu Kennet Roshi, and then training with Tai Situ Rinpoche. She is a Bodymind expert.
or
Not Currently Available for Direct Purchase