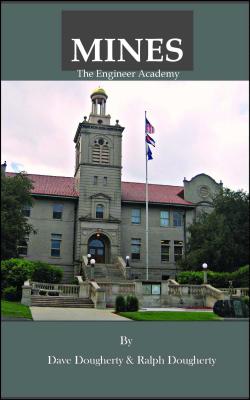 Mines
The Engineering Academy
Hardcover

* Individual store prices may vary.
Description
This short history recounts the story of Colorado School of Mines, particularly from 1947 to the early 1960s, its student life, and the traditions and excellence which was one of the most stringent in the country whch developed some of the great engineers in the US

The saga of the first hundred years of the Colorado School of Mines also known as Mines (CSM) was founded to fulfill a technological need in Colorado Territory, and rose to greatness through the establishment of a harsh, unforgiving environment with arguably the strictest academic standards ever seen on the North American continent. Its graduates dominated earth science industries having passed mental and physical tests of knowledge and endurance unthinkable in today's academic institutions. Even with selective admissions, CSM ultimately graduated less than one-third of its students, and many of those long after the normal four years of study.

This short history recounts the story of Mines, particularly from 1947 to the early 1960s, its student life, and the traditions and excellence lost in a changing environment. Nothing lasts forever, particularly institutions subject to tinkering by outside forces unable to recognize the value of engineering and fearing greatness in others. Teachers were replaced by corporate managers and research scientists, and students were recruited to represent the image Mines presidents wished to present to the state and the surrounding community. This is a history of a great educational institution by former students
Wrong Way Books, 9781945430657, 200pp.
Publication Date: April 9, 2019
About the Author
Dave Dougherty is a modern polymath with widely varied interests that have led him into many diverse careers, experiences, and achievements. He served as a lieutenant and captain in Army Intelligence's 513th INTC Group, and was a Professor of Management, Business, and Computer Science, most recently at the University of Texas, El Paso. He holds advanced degrees from Colorado School of Mines and Case Western Reserve University and advanced to candidacy for a PhD at both Case Western Reserve and the University of Maryland. He is a Registered Professional Engineer, and an entrepreneur in computers, being a pioneer in the use of client-server processing, the promotion of the cloud and ARPANET all during the 1970s, and later became arguably the world's most prolific applications programmer. History was always Dave's prime avocation, and he built one of the nation's premier collections in silver and gold ancient and medieval coinage to bring history to life. In Arkansas and Missouri, Dave is a radio personality discussing political problems through the lens of history and a rigid constitutionalist. Dave has authored over twenty academic papers and a number of books, including A Patriot's History Reader: Essential Documents for Every American, A Patriot's History of the Modern World, Volumes I and II, Starve The Beast!, The Gnosis Within, Landslide, and now Make Georgia Howl! The 5th Ohio Volunteer Cavalry in Kilpatrick's Campaign and the Diary of Sgt. William H. Harding.
or
Not Currently Available for Direct Purchase