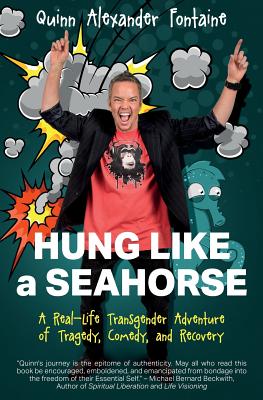 Hung Like a Seahorse
A Real-Life Transgender Adventure of Tragedy, Comedy, and Recovery
Paperback

* Individual store prices may vary.
Description
We each have a story, and we are not our story. So many of us get trapped by thinking we are less than others or unlovable or that we should not be taking up space altogether. This book will remind you that you are here for a reason. Quinn tells about the nitty-gritty of his journey of healing work to recover from childhood trauma and multiple addictions, and his full acceptance of being transgender.
In this book you will:
- Read How Quinn Gets Through the Tough Times
- Gain a Sense of Freedom to Be Who You Truly Are
- Feel Inspired and Encouraged to Shine Your Light More Brightly
- Learn How to Set Yourself Free and Give Others Permission to Do the Same
- Discover Ways to Share Your Beautiful, Ever-Evolving Authentic Self With the World "Quinn's journey is the epitome of authenticity. May all who read this book be encouraged, emboldened, and emancipated from bondage into the freedom of their Essential Self." - Michael Bernard Beckwith, Author of Spiritual Liberation and Life Visioning
"This book is funny, heartbreaking, inspiring, and transformational." - Eliot Laurence, Producer, Screenwriter of Claws and Welcome to Me
"Hung Like a Seahorse is not just about the transgender experience, it is about the human experience and how we can move beyond our limitations to understand each other better." - Jillian Brasch, Occupational Therapist, Author of The Last Gifts
"Not since reading Conundrum has there been such a courageous, powerful, and insightful telling of a trans child coming of age with the multitude of challenges one must face - G. Sterling Zinsmeyer, Executive Producer of the Opera, Fellow Travelers, and the Award-Winning Film, Latter Days.
Babypie Publishing, 9781945446108, 154pp.
Publication Date: April 5, 2017
About the Author
Quinn Alexander Fontaine has a background in all things expressive: stand-up, sketch, and improvisational comedy; installation work; and found-object sculpture. He began his studies in Communications Media at Simmons College in Boston and continued his education studying Performance/Video at the California College of the Arts in Oakland. Fontaine went on to star in the independent feature Some Prefer Cake. He also co-wrote, co-produced, and co-starred with the sketch comedy troupe Nude Coffee, playing venues throughout the United States and Europe, most notably Edinburgh's International Fringe Festival. Fontaine's first-ever one-person show Leaning to Stay was selected for fellowship with The Global Center for Cultural Entrepreneurship. Fontaine's second solo show, aptly titled Kathleen Fontaine: The Man, the Mystery! played to sold-out audiences. He's currently working on his third show, Hung Like a Seahorse: The Show-and-Tell Version. He's also recently embarked on his inspirational comedy career. He's mostly a happy guy.