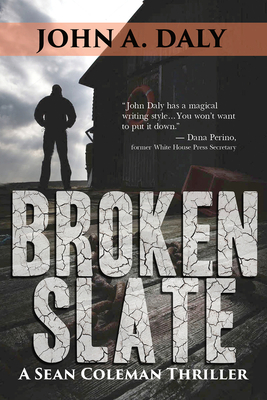 Broken Slate (The Sean Coleman Thriller Series)
Paperback

* Individual store prices may vary.
Description
Crackling with gunfire and suspense, the opening pages of BROKEN SLATE make clear that John A. Daly writes with assurance and style. . .

Thirty years ago, Sean Coleman's father abandoned his family in the Colorado mountain town of Winston, and was never heard from again. The reason for his disappearance was always a mystery, but a lifetime of blaming himself put Sean on a rough, dark path that took him years to return from.

Now content in his life, Sean receives unexpected word that his father has finally reemerged, on the other side of the country in Pawleys Island, South Carolina... as a murder victim. At the wishes of his sister, Sean flies out to retrieve the body, and hopefully find answers to why his father left, and the life he went on to lead.

What Sean discovers is a second family, a web of deception, and a brutal killer who's still on the loose... and isn't finished killing.
Praise For Broken Slate (The Sean Coleman Thriller Series)…
"Some writers are thoughtful. Some have style. John Daly has both. When I read his work, it's time well spent." —Bernard Goldberg, New York Times bestselling author of Bias

For Blood Trade (the 2nd book in the series) "This book has so many twists, turns, mis-directions and layers of plot that I even forgot to eat where I was so involved. The characters are larger than life and when you think you know them there is another surprise just around the corner." —Best Selling Crime Thrillers

 "The second in a series that will certainly continue, this book is a darned good read. The status of hero is shared by a super cop now living in a small community and his hapless (formerly) alcoholic brother-in-law. The main characters are well developed and the storyline good. This reader was torn between who to cheer for (the 'goodies' or the 'baddies') on several occasions and in many respects, the plot is quite unique. An enjoyable read with characters that wouldn't fit in with either the 'gung ho' or the 'splendidly rich and beautiful' crowd that usually populate American action stories and all the better for it! This is a stand alone book despite being the second in the series. My enjoyment wasn't marred by not having read the first and I will certainly go back and read the predecessor." —Mary Edgley, Goodreads

"Welcome back, Sean Coleman, you old so-and-so … Sean is slowly getting back to reality. He isn't drinking anymore and he is trying to really make a go of a security business. Then he falls into investigating the disappearance (murder?) of a man with the only clue being blood on the driveway. This was supposed to give Sean new direction in his life, but is actually threatening his life. Sounds intriguing? It is, believe me! I found Blood Trade very engrossing and gripping. Fantastic." – Tanya Brough for NetGalley

 For From a Dead Sleep (1st book in the series): "A fast reading suspense book that surprised me so much, I had to finish it in one sitting." —Alice de Sturler of the American Investigative Society Of Cold Cases.

 "An epic thriller with a memorable, unorthodox main character… a riveting read…" —Colorado Country Life Magazine

"Wow this book [From a Dead Sleep] will keep you on the edge of your seat… The story takes twists and turns that you just simply won't see coming. This is a very exciting mystery and you won't want to put it down… John Daly's writing style is a refreshing one. And I must say that when I finished reading this book I wanted to read more by this author. I highly recommend this book to anyone who enjoys a well written mystery, full of suspense and drama." —Chris Condy, Recent Reads book blog

"A thriller that packs a punch! This was a very exciting debut novel from John A Daly. This novel packs a lot of jaw dropping action into its well structured narrative—a narrative that gives life to the myriad of characters that inhabit its pages and provides plenty of plot twists and turns to keep you glued to the pages." —Reading, Writing, and Riesling book blog. 

"I loved this book. The suspense had me sitting on the edge of my seat… The author did a fabulous job with the setting details—I could picture every touch, smell, sight that the characters went through…" —Yawatta Hosby, author of the novel, One by One

"A page turner, an exciting, well-written thriller with a solid back story and more than enough plot twists to keep you guessing." —Marilyn Armstrong, Serendipity book blog.

"Greeley-based novelist John A. Daly has created a popular protagonist and the third book in his Sean Coleman Thriller series, Broken Slate, is one of three finalists in the 2018 Colorado Book Awards' thriller category." —Terry Frei, columnist for the Greeley Tribune
BQB Publishing, 9781945448089, 300pp.
Publication Date: October 1, 2017
About the Author
John A. Daly graduated from the University of Northern Colorado with a degree in business administration and computer information systems. With a thirst for creative expression that went beyond the logic of computer programming, John developed an interest in writing. He currently writes political, cultural, and media analysis columns for multiple national news websites.
or
Not Currently Available for Direct Purchase