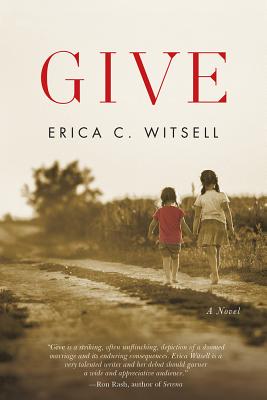 Give, a Novel
Paperback

* Individual store prices may vary.
Description
A very unusual family saga written with unusual intelligence and compassion. Erica Witsell has a gift for depicting complex relationships. —Phyllis Rose, author of Parallel Lives, The Year of Reading Proust, and The Shelf

Every summer, Jessie and Emma leave their suburban home in the Central Valley and fly north to Baymont. Nestled among Mendocino's golden hills, with ponies to love and endless acres to explore, Baymont should be a child's paradise. But Baymont belongs to Laurel, the girls' birth mother, whose heedless parenting and tainted judgement cast a long shadow over the sisters' summers---and their lives.

Caught in a web of allegiances, the girls learn again and again that every loyalty has its price, and that even forgiveness can take unexpected turns.

Luminous and poignant, Give is the story of one family's troubled quest to redeem the mistakes of the past and a stirring testament to the bonds of sisterhood.

This is a gripping narrative about family, identity, and loyalty . . . Beautifully written! —Kate Rademacher, author of Following the Red Bird

At times subtle and at times cutting to the quick Give digs deep into the heart and soul of a family as connected as it is torn apart. Give pulls no punches, delivering an honest look into the lengths we will go for family. —Amy Willoughby-Burle, author of The Lemonade Year
Praise For Give, a Novel…
"I met Erica at a conference and after hearing her speak, I couldn't wait to read her book—I was not disappointed. Jessie and Emma are the product of a broken marriage between Len and Laurel." —Andrea, Fountain Bookstore Review

"Erica is a superb story teller, and her book deserves to be read by as many book lovers as possible." —Jon Mayes, book blogger

"In its earnest, unrestrained exploration of sisterhood, Give is a groundbreaking approach to the timeless themes of loss, love, and loyalty." —Wesleyan University Newsletter
BQB Publishing, 9781945448348, 430pp.
Publication Date: June 1, 2019
About the Author
Erica Witsell has a bachelor's degree from Wesleyan University and a master's from UC Berkeley. Her writing has appeared in The Sun Magazine, and Brain, Child's online publication. Give is her debut novel. Erica lives in western North Carolina with her family, where she teaches English as a new language and writes a blog about motherhood. She loves mountains, languages, bicycling, and dance. Visit her online at www.ericawitsell.com
1. Give begins with Laurel's perspective, although it eventually becomes clear to the reader that she is not the protagonist of the story. Why do you think the author chose to begin the novel with her perspective? Do you think this was an effective choice? As a reader, when did your perception of Laurel's character begin to shift?
2. Ron Rash has described Give as a "striking, often unflinching, depiction of a doomed marriage and its enduring consequences." Do you agree that the marriage between Laurel and Len is "doomed?" What events or circumstances eventually lead to its disintegration? Do you agree with Emma that Len and Laurel's divorce is the "best thing that could have happened?" Why or why not? How would the characters' lives have been different if Len had stayed with Laurel?
3. When Len decides to pursue his relationship with Sarah, he knows this will mean that his daughters will lose Sarah as a caregiver. He is, in effect, putting his own happiness before that of his daughters. What did you think of his choice? How much of their own happiness should parents be willing to sacrifice for their children's well-being? Is it fair for parents to take chances when they risk hurting their children?
4. In the early scenes in the novel, Laurel really struggles with new motherhood. Discuss how Laurel's isolation compounds the challenges she faces as a new mom. Do you think moms today face similar challenges? If so, what could help alleviate them?
5. Near the end of Part One, Sarah reflects that Len always said that she "just smelled right" to him. Do you agree that this kind of visceral feeling about a partner is important as a basis for a romantic relationship? Sarah also implies that her own choice was more reasoned. What role, if any, should rational thought play in decisions about long-term relationships?
6. Although Emma loves Baymont in some ways, she never feels secure there. Discuss the incidents at Baymont that contribute to this insecurity. For which of these events do you think Laurel is responsible? Do you think that she is unfairly blamed for things that were beyond her control?
7. How do Emma and Jessie experience their summers at Baymont and their relationship with Laurel differently? Are there any ways in which their experiences are similar? Have you ever shared an experience with someone only to find that the way they experienced it was very different from your own? How is your relationship with your parents different from that of your siblings?
8. Do you agree with the judge's decision in the custody battle between Laurel and Len? Why or why not?
9. After Laurel takes her father to court, Emma seems to cut off all ties to her birth mother until the very end of the novel. What do you think of her choice to do this?
10. In Part Three, Emma struggles with what her attraction for other women means for her sense of self. Is she a lesbian? A dyke? Bisexual? In what ways does a person's sexual orientation impact their identity? Does the idea of a continuum of sexuality, rather than fixed categories of gay and straight, make this question of identity any easier?
11. Laurel eventually enters into a polyamorous relationship with Jim and his long-term partner, Sue. What role does this relationship ultimately play in the novel's plot?
12. At one point in the novel, Jessie says that no one has a right to decide "who or how many consenting adults choose to love." Do you agree with this statement? Why or why not? What additional challenges might polyamory pose in a relationship? Are there any advantages polyamory might have over monogamy?
13. What do you think are Laurel's primary motivations in asking Jessie to donate her eggs? What do you think of this request? Why do you think Jessie agrees to Laurel's plan? Do you think she made the right choice?
14. Discuss Jessie's decision to have an abortion while she is a graduate student. How, if at all, does this decision impact the course of her life and the plot of the novel?
15. Why do you think Jessie keeps her gift to Laurel's family a secret from her parents? Is she right to do so? What are the consequences of this choice?
16. Why does Sue eventually leave Jim and Laurel? What is your opinion of this choice?
17. Describe Emma's grief after Katherine leaves her. Can you relate to her experience? Why or why not?
18. When Katherine ultimately apologizes for leaving Emma, she justifies her actions by saying, "I wasn't in love with you anymore." Emma responds by saying that love is a choice. Which view of romantic love do you believe is the most accurate? Why?
19. Describe the role of forgiveness in Give. Who is forgiven, and why? How has forgiveness been important in your own life?
20. Sarah Viren, author of Mine, has written that Give shows us that ". . . sacrifice and selfishness both play a role in how we parent and love." Do you agree? Discuss how sacrifice and selfishness play out in the novel and in your own parenting or relationships.
21. Is Give a good title for this novel? Why or why not?